Close Nave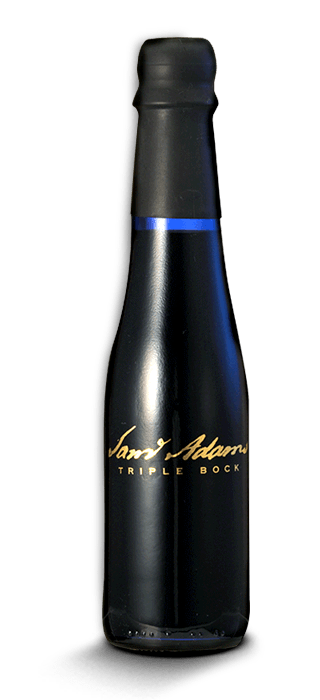 Samuel Adams
Triple Bock
Find Near You
Smooth and very complex, like an unusual port wine, Samuel Adams® Triple Bock® is the craft beer that launched our odyssey into extreme brewing.
HOP VARIETIES
Tettnang Hallertauer Noble hops
MALT VARIETIES
Two-row Harrington and chocolate malts
YEAST STRAIN
Two Samuel Adams yeasts
COLOR
Ruby black, 200 SRM
ALC. BY VOL/WT
18% ABV - 14.4%ABW
AVAILABILITY
Not Currently Brewed
Food Pairings
Complement

Cut
Every Craft Beer
Has a Story
THE TOOLS

We start with the four classic ingredients, two-row malted barley, water, Noble hops and yeast, as well as maple syrup. The deep, full flavor of this unique craft brew explodes with notes of maple, vanilla, oak and toffee, drawing comparisons to a vintage port, sherry and cognac. We recommend serving it at room temperature, in a snifter, a few ounces at a time; one bottle should generously serve two to three craft drinkers, ideally as an after dinner aperitif.

THE TRADE

Triple Bock® is aged several months in oak whiskey barrels. This extra step in the craft brewing process adds layers of vanilla and oak flavor, as well as tannins to push this already complex brew into the realm of a fine port or sherry. There are only three vintages of Samuel Adams® Triple Bock®, 1994, 1995 and 1997, but bottles can still be found out in the marketplace. Unlike regular beer, which has a very limited shelf life, this rich brew seems to only improve with time, becoming even more complex, and slightly dryer.

THE LEGACY

Jim Koch challenged our craft brewers to change the very perception of beer by creating the strongest tasting beer in history. So they began by looking at other beer styles for inspiration. After closely studying high-strength ice bocks, our brewers expanded to other areas of alcohol manufacturing, specifically whiskey. We enlisted a barrel aging expert to help us find the right kind of barrels to use for this beer, exploring different kinds of woods and the various liquids they had been conditioned with. As a result, the special whiskey barrels we used for Samuel Adams® Triple Bock® gave this beer a whole new dimension of flavor during the aging process.