Samuel Adams


Close Nave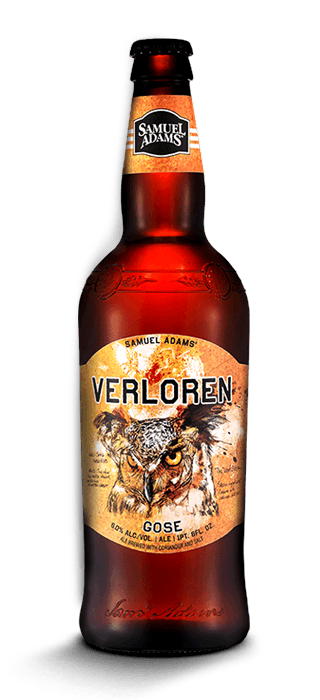 Samuel Adams
Verloren®
Find Near You
A link to the ales of Saxony that had all but vanished, this Gose is a peculiar yet captivating brew. With a base of an unfiltered wheat ale, it's vivid and refreshing yet also has a softness to it. The flavor is brought to life by an unexpected touch of salt for a mineral quality, and coriander for a peppery spice, resulting in an unusual and delicate, yet flavorful brew.
MALT VARIETIES
Samuel Adams two-row pale malt blend, malted and unmalted wheat
YEAST STRAIN
Top-fermenting Ale
COLOR
Deep golden with a fine haze, SRM: 9
SPECIAL INGREDIENTS
Kosher salt, coriander
ALC. BY VOL/WT
6.0% ABV - 4.7% ABW
Food Pairings
Complement

Contrast
Every Craft Beer
Has a Story
THE TOOLS

For this unique brew we went back to the rare style of Gose (pronounced goes-uh) from Germany. This unusual style had all but disappeared (the name Verloren translates to "lost" in German) after WWII. Yet its unique and refreshing character is worth another look (or taste). An unfiltered wheat beer, Verloren is brought to life by an unexpected touch of salt for a mineral quality, and coriander for a peppery spice.

THE TRADE

This unfiltered ale with a base of 50-60% malted and unmalted wheat for a crisp cereal note that's light and refreshing. But the unusual addition of lactic acid gives the beer a softness and almost creamy, taste with just a hint of acidity. The addition of salt adds a sharpness that awakens the brew. Rather than tasting salty the addition gives a slight mineral taste that heightens the surrounding flavors. Coriander rounds out the taste for a bit of peppery heat. The resulting brew lively, refreshing, and utterly unique.

THE LEGACY

Not to be confused with a Gueuze (a sour Belgian beer), Gose is a peculiar German style that falls outside of the Bavarian tradition. Originating in Goslar, Saxony, gose was popularized in 1738 when Duke Leopold brought it to nearby Leipzig. Leipzig lies outside of Bavaria, where the German Beer Purity Law of Reinheitsgebot originated. The law dictated that beer only contain 3 ingredients, water, malt, and hops (yeast was not yet known). But Leipzig's Gose was an exception as a regional specialty, and continued to be brewed with its signature coriander and salt. Like many beer styles, gose began to disappear as light pilsners grew in popularity but it became even rarer with the onset of WWII.