Close Nave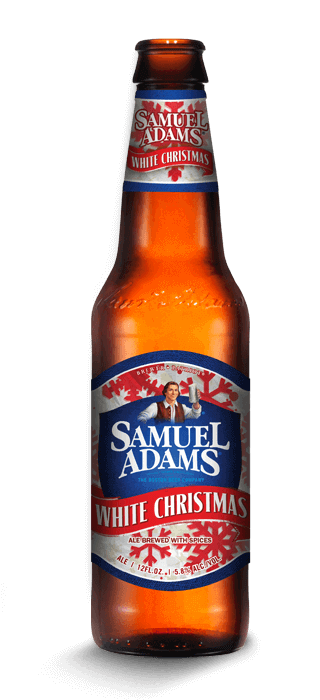 Samuel Adams
White Christmas
A special time of year calls for a special brew. For us, this brew combines the crispness of a white ale with the warmth of familiar holiday spices.
HOP VARIETIES
Spalt Spalter Noble hops
MALT VARIETIES
Samuel Adams two-row pale malt blend, wheat, IdaPils malt
YEAST STRAIN
Samuel Adams ale yeast
SPECIAL INGREDIENTS
Cinnamon, nutmeg, orange peel
ALC. BY VOL/WT
5.8% ABV - 4.4% ABW
AVAILABILITY
12oz: 6pk, Winter Classics
Every Craft Beer
Has a Story
THE TOOLS

The familiar citrus and wheat characters of the ale are complemented by the warmth of the spices including cinnamon, nutmeg, and orange peel for a festive brew that's perfect for the season.

THE TRADE

Using some of our favorite Christmas spices we brewed this hazy white ale with distinct fruity citrus notes and a warm spiciness. The blend of malts contributes a medium body with a subtle sweet note while the wheat provides a slight crisp character. The lingering spice notes leave you wanting more.

THE LEGACY

Brewers have long brewed specialty beers for the season, often due to ingredient availability but also to celebrate. We wanted to create a crisper, quaffable beer for holiday celebrations. Thus, we began with a Belgian white ale but replaced the traditional coriander with familiar and warming holiday spices of cinnamon, nutmeg, and orange peel to resulting in a festive brew destined to become a new holiday tradition.