Close Nave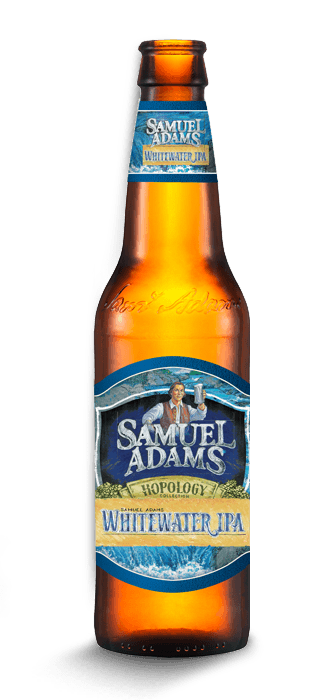 Samuel Adams
Whitewater IPA
Find Near You
This flavor packed brew draws inspiration from two distinct styles, the white ales of Belgium & American IPAs. But while a fusion of the two, it's far more than the sum of both, exhibiting a harmony of crisp wheat, bright pine and citrus flavors, & just a hint of orange peel.
HOP VARIETIES
Topaz, Chinook, Cascade, Simcoe, and Citra
MALT VARIETIES
Samuel Adams two-row pale malt blend and white wheat
YEAST STRAIN
Top-fermenting Ale
COLOR
Hazy amber, SRM: 7.5
SPECIAL INGREDIENTS
Apricots, coriander, orange peel
ALC. BY VOL/WT
5.8% ABV - 4.6% ABW
AVAILABILITY
Limited Release
Every Craft Beer
Has a Story
THE TOOLS

The crisp white wheat, sweet citrus orange peel, and spicy coriander of a white ale form the base of this refreshing brew. The big hoppiness and grapefruit notes of an IPA bring the flavor to a new bold level. The addition of apricots helps bring these flavors together for a soft fruit undertone and balance.

THE TRADE

We love getting inspiration from traditional beer styles and seeing where else they can go. This unique beer style is the delicious result of combining the characteristics of two styles, a white ale and an IPA. The white ale comes to life in this unfiltered brew through the use of pale and white wheat as well as orange peel and coriander. The crisp and refreshing white ale is brought in a new direction with addition of an IPA's intense piney and grapefruit hop character from Australian and American hops.

THE LEGACY

White ales are traditionally known as "witbiers," or white beers. The name comes from their unfiltered haziness and light color . Witbiers emerged over 400 years ago in Belgium, when spices and herbs were used to flavor and preserve beer. Hops are incorporated today but their flavor is subtle and delicate in these brews. By contrast India Pale Ales are known for intense hop character. IPAs came about in England, centuries after witbiers were enjoyed in Belgium. Whitewater IPA brings the hop-forwardness of an IPA together with the crisp, refreshing taste of a witbier.