Close Nave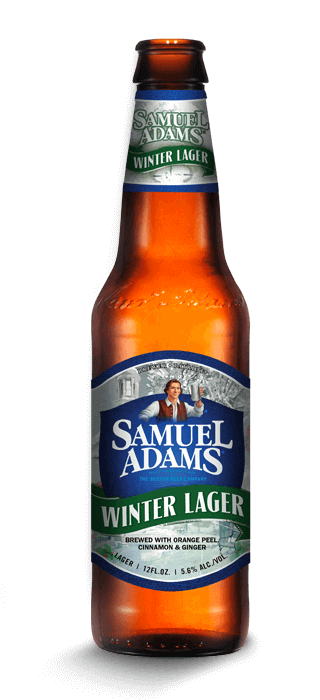 Samuel Adams
Winter Lager
Bold and rich, with a touch of holiday spice, Samuel Adams Winter Lager is a wonderful way to enjoy the cold evenings that accompany the season.
HOP VARIETIES
Spalt Spalter and Hallertau Mittelfrueh Noble Hops
MALT VARIETIES
Samuel Adams two-row pale malt blend, Caramel 60, malted wheat, Weyermann Carafa Malt, and Munich 10
YEAST STRAIN
Bottom-fermenting Lager
COLOR
Deep ruby brown, SRM: 25
SPECIAL INGREDIENTS
Orange peel, ginger, cinnamon
ALC. BY VOL/WT
5.6% ABV - 4.4% ABW
AVAILABILITY
Seasonal (Nov. - Dec.)
Food Pairings
Complement
Every Craft Beer
Has a Story
THE TOOLS

You can't have "holiday spice" without cinnamon. So we tried dozens of cinnamons and came to a blend of cinnamons grown in Southeast Asia. Unlike the more common varieties of cinnamon, the blend contains Indonesian and Vietnamese cinnamon. The Vietnamese cinnamon is prized for its intense and complex pronounced spice taste.

THE TRADE

The spices for Samuel Adams Winter Lager are fresh ground just before brewing, adding character and depth to the generous quantities of malted wheat. We then brew these spices with a dark wheat bock, to put our own twist on the classic bock style. The result is a deep ruby lager with a warming spicy flavor profile.

THE LEGACY

Bock beers, like the dark wheat bock Winter Lager, are classically strong dark lagers originating from the town of Einbeck, Germany. Translating to "billy goat," some claim bock's name association comes from being brewed during the astrological sign of Capricorn. Bocks are known for their rich malt character and low bitterness. High in food energy and nutrients, these beers were traditionally brewed by monks during fasting on holidays such as Christmas and Lent. Thus, these stronger brews are closely associated with the holidays.