Close Nave


Our company, like our many beers, is the result of a combination of history, tradition, human chemistry, creativity and wonder.
Together, we look at the world as one without limits, where we are free to explore, grow, create and enjoy. We believe that this recipe is key to producing remarkable, flavorful beer.
The Boston Beer Company
From the very beginning, Jim wanted to create a company that he would want to work for. Creating a culture that celebrated beer with a passion and depth of knowledge that can't help but be contagious to others. People at the Boston Beer Company all share a love of great beer.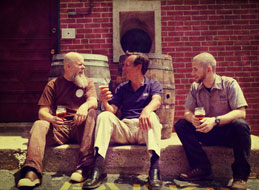 Jim has believed from the beginning that the more you know and understand about beer, the more you'll appreciate a beer like Samuel Adams Boston Lager®. To begin that mission, all new employees go through intensive training on everything from ingredients, brewing, and beer styles, to taking care of the beer once it leaves the brewery. We're all beer lovers and protectors of the beer so we're trained how to identify off flavors and how to troubleshoot the causes. The passion for beer continues with an annual homebrew competition that we all take part in.
One of our wholesalers once asked Jim why he invested so much in training his people, when ultimately they might leave. Jim smiled and replied without hesitation: "What if I didn't train them, and they stayed?"
Each year, usually in January, everyone gathers together. One of the highlights of the meeting is the beer trivia contest. With a culture so steeped in beer education and knowledge, winning is a pretty big deal. Recently, one of the hotel bartenders who was watching as the various teams arrived in costume with music and much enthusiasm and fanfare, said, "I've always known Samuel Adams made the best beer in America, but now I see this is the greatest company in America."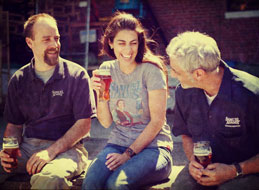 We've worked hard at maintaining that culture through the successes and growth we've enjoyed over the years. The Boston Beer Company has been cited as one of the best companies to work for by Boston Magazine, one of the Best Entry-Level Jobs by The Princeton Review, and our beers have won more awards than any other in history. Jim has been named an "Entrepreneur of the Year" by Inc. Magazine.
Our brewers keep amazing us with innovative new brews, including Samuel Adams Utopias®, Infinium, our Barrel Room Collection and many more limited release brews. When you look around, you see that The Boston Beer Company is a team of enthusiastic people who are passionate about beer and who really love coming to work every day to provide American drinkers with the best beer possible.
The Boston Beer Company, Inc. is a publicly-traded company listed on the New York Stock Exchange under the symbol, SAM. For financial and related information, please visit our website at www.bostonbeer.com.
Samuel Adams® is proud to be an American Craft Brewer.
An American Craft Brewer is defined as being Small, Independent and Traditional.
SMALL - Annual production of beer less than 6 million barrels.
INDEPENDENT - Less than 25% of the Craft Brewery is owned or controlled (or equivalent economic interest) by an alcoholic beverage industry member who is not themselves a Craft Brewer.
TRADITIONAL - A brewer who has either an all malt flagship (the beer which represents the greatest volume among that brewery's brands) or has at least 50% of its volume in either all malt beers or in beers which use adjuncts to enhance rather than lighten flavor.
No matter where the members of our family of craft beer lovers come from, we're all here for the same reason: For the Love of Beer.

History

From Jim Koch's humble kitchen to a team of over 1200 craft beer lovers, Samuel Adams has a history worth reading about.

Community

We pride ourselves on being responsible for great craft beer and great community outreach.