Close Nave


For the first 35 years of his life, Jim Koch's family history and his future career lay in the attic of his parent's house. Jim's father Charles Koch, a fifth generation brewer, had left the business but kept the old family beer archives upstairs in an old trunk. The recipes hadn't been used since the Louis Koch brewery closed during Prohibition and when American tastes went away from full flavored beers..
Six Generations of BREWING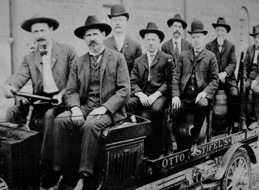 Jim left for college believing that for the first time in 150 years the eldest Koch son would turn his back on beer. After college and graduate school Jim began a promising career in management consulting. Even though he followed that path for several years, he always kept an eye on the beer business. In 1984 his instincts told him it was time to make his move; people were starting to crave something different in their beer.
In 1984 "better beer" did not exist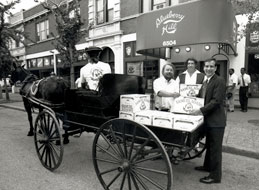 In 1984, the American landscape was vastly different from what it is today. The only options for domestic beer were pale lagers from the mass market brewers. To find a flavorful, "better beer", there were only a handful of imports like Heineken and Beck's that were thought of as the only option for quality beer. American craft beers were virtually non-existent, or still in the basements and kitchens of a few spirited brewers. There were virtually no widely distributed micro brewed beers.
Originally conceived during the 1870s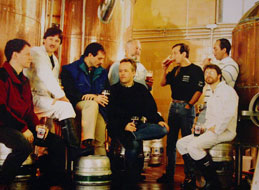 While Charles thought his son's plan was crazy, he picked out his favorite family recipe, one that Jim's great-great grandfather, Louis Koch, had made at his brewery in St. Louis, Missouri in the 1870s. The following spring, Jim Koch filled his old consulting briefcase with bottles from his sample brew and started going door to door asking Boston bars and restaurants to serve the beer that he had named Samuel Adams Boston Lager®.
He chose that name because Samuel Adams was a Boston firebrand, a revolutionary thinker who fought for independence. Most importantly, Samuel Adams, was also a brewer who had inherited a brewing tradition from his father.
Samuel Adams Boston Lager® is born
In April 1985, when Samuel Adams Boston Lager® made its debut in about 25 bars and restaurants in Boston, the company had no office, no computers, and no distributors.
Jim Koch and his partner, Rhonda Kallman, were the only employees. They spent most of their time going bar to bar just trying to sample people on this different kind of beer. The beer caught on faster than anyone expected. By the end of the year sales of Samuel Adams beer had reached 500 barrels, and distribution had expanded from Massachusetts to Connecticut, and a place where great beer is revered, Germany.
It was beginning to look as if Jim's instincts were right. If you offered people a better beer, they'd be thirsty for it.
36,000 barrels a year coast to coast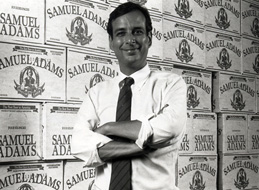 While it didn't have the trappings of a company that was about to change the industry, Samuel Adams had two key things in its favor: a full flavored, quality beer, and an incredible passion for that beer.
Drinkers quickly learned about Samuel Adams and shared that passion. Sales were brisk, by 1988, we were able to build a small brewery in Boston, sold 36,000 barrels, and were able to make the beer available on both coasts.
A great time to be a BEER LOVER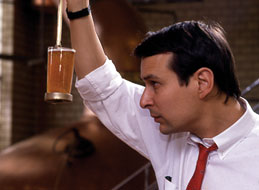 The expansion wasn't just geographic, however. We also began introducing new beer styles – like Boston Ale, Cream Stout, and Double Bock, as well as a line of seasonal beers. The success and rapid growth of Samuel Adams soon became a catalyst to other small brewers, and the microbrew revolution began to take hold. By 1995, there were hundreds of small, local, and regional breweries sprouting up all over the country. It was a great time to be a beer lover in America.
Stretching the definition of BEER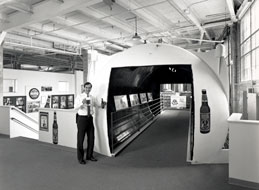 Never satisfied just to make our own version of existing beer styles, in the early '90s we began our exploring the limits of the known beer universe. We began with Samuel Adams Triple Bock® to experiment with barrel aging beer and extended that new found knowledge to create Millenium. We pushed our ideas further and work with aging, materials, and vintage blends to create Samuel Adams Utopias®. We continue to experiment and push the expectations of beer to create new complex and flavorful tastes.
Timeless QUALITY the world over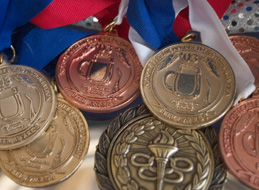 Today we're a team of about 1200 people with our breweries are in Boston, Cincinnati, and Pennsylvania. Our family of beers includes over 50 different beer styles that's ever changing. Samuel Adams beers are now available in all 50 states and more than 20 foreign countries. We're proud that our beers are recognized for awards all over the world, including in the style's country of origin. Over the years our beers have won more awards around the globe, more than any brand in history.
But what we're most proud of, and passionate about, is still the beer itself. From the first days in Jim's kitchen through today, the mission at Samuel Adams hasn't wavered or compromised, we're still focused on making the best beer possible and we can't wait for what's to come.
Community

We pride ourselves on being responsible for great craft beer and great community outreach.

Culture

Quality, creativity and innovation. Learn what makes us The Boston Beer Company.

No matter where the members of our family of craft beer lovers come from, we're all here for the same reason: For the Love of Beer.