WE'RE TAKING OUR KOSMIC MOTHER FUNK GRAND CRU BACK ON TOUR!
For the second year, we're taking Kosmic Mother Funk (KMF) Grand Cru out of our Boston Brewery and on the road for a coast-to-coast 20 city tasting tour. Don't miss your chance to try this one-of-a-kind brew that has been aging in the Barrel Room at our Boston Brewery.
Click on the dropdown below to find out where you can find this funky brew on tap (and be sure to check back as we add locations).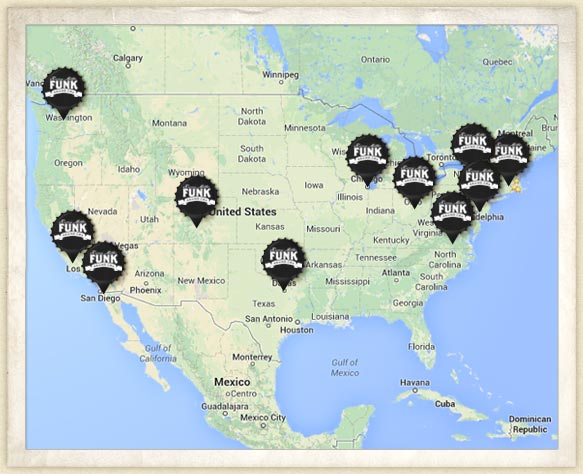 Tour Dates
| | |
| --- | --- |
| September 14 - 20 | Boston, New York City, Philly |
| September 21 - 27 | Denver, Chicago |
| October 5 - 11 | Portland (OR), Seattle |
| October 12 - 18 | Cleveland, Minneapolis |
| October 19 - 25 | Asheville, Grand Rapids |
| October 26 - Nov 1 | Austin, Kansas City |
| November 2 - 8 | Portland (Maine), DC |
| November 9 - 15 | San Diego, Dallas |
| November 16 - 22 | LA, San Fran |
| Nov. 30 - Dec. 6 | Drinker's Choice! |
Bring the Funk to YOUR City
Final Stop on our #KMFTour will be decided by you!
BRING THE FUNK TO MY CITY!
Don't see Kosmic Mother Funk Grand Cru coming to your city? You can help change that! Nominate a city closest to you and we'll reward the city with the most votes with the 20th and final stop on our tour! Rock the vote (and tell your local friends to do the same) between now and October 15 when voting closes.
BOSTON BREWERY BOTTLE RELEASE PARTY
Want to bring the funk home? Here's your chance! Samuel Adams Founder and Brewer Jim Koch will be tapping the first keg of Kosmic Mother Funk (KMF) Grand Cru here at our Boston Brewery on September 2 starting at 6:00pm. This event will mark the first time our brewers have released this special, funky brew in bottles, which will be for sale starting the night of September 2nd and will be available for purchase exclusively at the brewery until they are gone.
What: Samuel Adams Night of Funk – KMF Grand Cru Bottle Release Party
Where: Samuel Adams Boston Brewery
When: September 2 from 6:00pm to 8:30pm
For more event information and to purchase tickets, click over here.
Beer Details:
HOP VARIETIES
Hallertau Mittelfrueh
MALT VARIETIES
Samuel Adams two-row pale malt blend, Special B, Munich 10
YEAST STRAIN
Belgian Top-fermenting Ale
COLOR
Dark reddish brown / 54 SRM
SPECIAL INGREDIENTS
Belgian candi sugar, Brettanomyces and Lactobacillus
ALC. BY VOL/WT
6.4% / 4.98%
AVAILABILITY
Limited Release
BREWER/TASTING NOTES:
Tasting Notes:
Kosmic Mother Funk Grand Cru is tart, funky, and complex with notes of dark fruits, cherry, cocoa & vanilla. The addition of a small amount of Belgian candi sugar adds a bit of smoothness and hint of sweetness to this vintage.
Notes from the Brewers:
This one-of-a-kind Belgian ale is fermented with multiple microorganisms including Brettanomyces, Lactobacillus and other wild critters found in the environment of our 150-year old Boston brewery
The unique yeasts impart layers of spicy, fruity, & bright tart notes to the beer. Aged in our Hungarian oak tuns, the porous character of the wood allows air to slowly seep in during aging creating micro-oxidation that smoothes any harsh flavors
Grand Cru often denotes a vintage of the highest quality or 'the best of the best'. This release has been aging in our Barrel Room for just over a year.
Kosmic Mother Funk is the soul of our Barrel Room Collection, blended to varying degrees in each of our five Belgian brews creating a distinct & complex character