Close Nave
BBQ Shrimp & Avocado Salad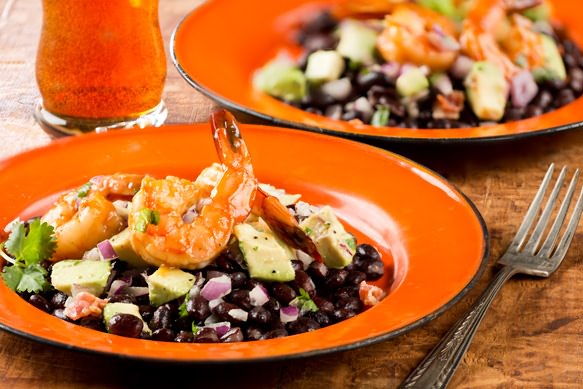 Directions
For the bean mixture, cook the bacon in a saucepot for about 5 minutes over medium heat, until the bacon fat starts releasing. Add the onions and sweat for 2 minutes. Add the black beans and cover with water. Cook until the beans are soft, refilling with water when necessary.
In a hot sauté pan, sear the shrimp in 1 tablespoon of olive oil on both sides until they are cooked through, about 3 minutes on both sides. Spill the oil out of the pan. Add in the BBQ sauce. Coat the shrimp in the sauce.
Take the avocado, cilantro, red onions, the olive oil, lemon juice, salt and pepper and mix. Combine it with the shrimp and pour them over the black beans.
Ingredients
1 cup black beans soaked in ½ cup of water and ½ cup of Samuel Adams Boston Lager® overnight
2 tablespoons bacon, diced
2 tablespoons diced onion
6-10 jumbo shrimp
1 tablespoon extra virgin olive oil
Additional 4 oz. of extra virgin olive oil
½ cup BBQ sauce
1 dice avocado
1 tablespoon chopped cilantro
½ red onion, chopped
Juice of 1 lemon
Salt & Pepper