Close Nave
Beery Bread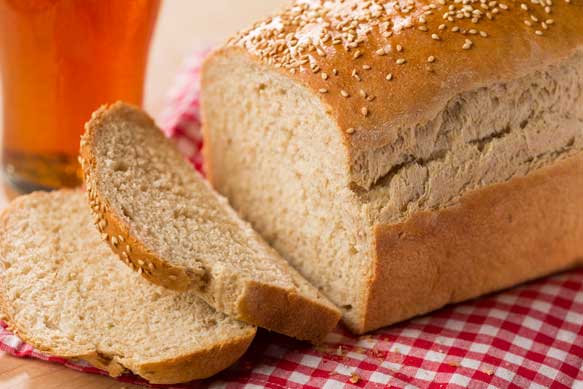 Directions
Yield: Makes 4 loaves
In a small bowl, combine the yeast and warm water and set aside for about 10 minutes or until the mixture bubbles and foams.
In a large bowl, mix together the whole-wheat flour and 3 cups of the all-purpose flour. Add the proofed yeast mixture, the eggs, ale, butter, and honey. Beat vigorously with a wooden spoon to aerate the mixture, which now is called a sponge (some bakers say to make 100 strokes). When the sponge is well blended, cover the bowl with plastic wrap and set aside in a warm, draft-free place for about 1 hour or until doubled in bulk.
Sift together the remaining 6 cups of all-purpose flour and the salt. Slowly work the flour into the sponge and when the dough is firm and smooth, turn it out onto a lightly floured surface. With floured hands, knead the dough for about 15 minutes or until smooth and elastic. If the dough seems wet and sticky, add a little more flour.
Put the dough in a lightly oiled bowl and roll it over the bottom and sides of the bowl to coat with oil. Cover with plastic wrap or a kitchen towel and let rise in a warm place for 1 hour, or until double in size.
Preheat the oven to 350°F.
Using your fist, gently punch down the risen dough. Turn it out onto a lightly floured surface and divide the dough into quarters and let the dough rest for about 5 minutes. Knead the 4 pieces of dough a few times and then roll each into a loaf. Put each piece in a prepared loaf pan. Set aside in a warm place to rise for 15 to 20 minutes.
With a small, sharp knife, cut a slit along the length of each loaf. Brush each with the reserved egg white mixed with a little water and sprinkle with the sesame seeds.
Bake for 45 to 50 minutes or until the tops are golden and the bottoms of the loaves sound hollow when tapped.
Turn the loaves out onto wire racks and let them cool completely before slicing.
Ingredients
Makes 4 loaves

2 tablespoons active dry yeast (about 2 ½ packages)

1/2 cup warm water

3 cups whole-wheat flour

9 cups unbleached all-purpose flour

4 large eggs, with 1 egg white reserved

30 ounces (3 3/4 cups) Samuel Adams Boston Lager or Samuel Adams Boston Ale

6 tablespoons (3/4 stick) unsalted butter, melted

½ cup honey

5 teaspoons kosher salt

1/2 cup sesame seeds, plus more if needed