Close Nave
Boston Lager Chocolate Cupcakes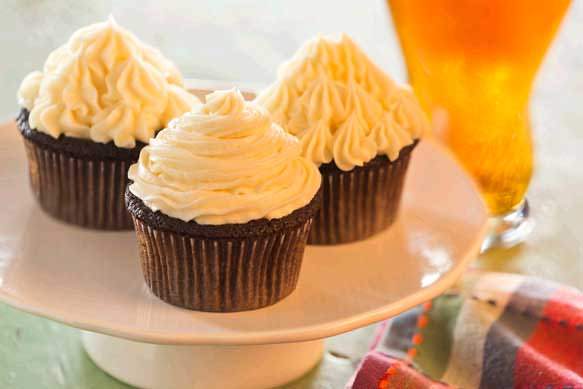 Directions
Yield: Makes 24 cupcakes
To make the cupcakes, preheat the oven to 325°F. Line 2 12-cup cupcakes pans with paper liners.
In the bowl of an electric mixer and using the paddle attachment, beat together the butter, sugar, and cocoa powder until smooth. Add the eggs, 1 at a time, and mix until the batter is thoroughly mixed.
In a glass measuring cup, mix together the lager, salt and ½ cup of water.
In a mixing bowl, whisk the flour with the baking powder and baking soda.
With the mixer on medium speed, add the liquid ingredients and the flour mixture to the batter in alternating amounts, beating until the batter is smooth and evenly colored.
Spoon the batter into the prepared cupcake cups, filling each one about 3/4 full. Bake for 15 to 18 minutes or until the cupcakes brown lightly and a toothpick inserted in the center of one of the cupcakes in the center of the pan comes out clean.
Ingredients
Cupcake Ingredients:

1/2 cup (1 stick) unsalted butter
1 1/4 cups sugar
1/4 cup unsweetened cocoa powder
2 large eggs
1/2 cup Samuel Adams Boston Lager
1/2 teaspoon salt
3/4 cup all-purpose flour
3/4 teaspoon baking powder
3/4 teaspoon baking soda

Buttercream frosting:

3 cups confectioners' sugar
1 cup (2 sticks) butter
1 ounces (2 tablespoons) Samuel Adams Boston Lager
1 tablespoon heavy cream
1 teaspoon pure vanilla extract