Close Nave
Cheese Soup with Beer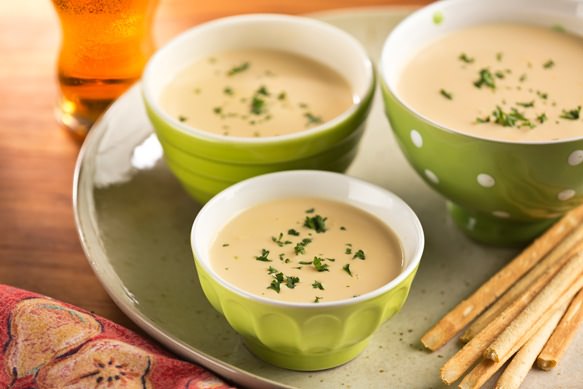 Directions
Yield: Serves 12
In a large pot combine the milk, bouillon granules, Worcestershire sauce, hot pepper sauce and salt and bring nearly to a boil over medium heat.
In a small bowl, whisk the cornstarch with ½ cup of water to make a smooth slurry. Add to the soup and stir to combine.
Add the lager and cheese sauce, reduce the heat to low, and heat through, stirring constantly. Serve hot.
Ingredients
Serves 12

8 cups milk
1 tablespoon plus 1 1/2 teaspoons chicken bouillon granules
1 tablespoon Worcestershire sauce
1 tablespoon hot pepper sauce
1 1/2 teaspoons kosher salt
1/4 cup plus 2 tablespoons cornstarch
12 ounces (1 1/2 cups) Samuel Adams Boston Lager
One 16-ounce jar processed cheese sauce, such as Cheese Whiz