Samuel Adams


Close Nave
Cheeseburger Sliders with Boston Lager Ketchup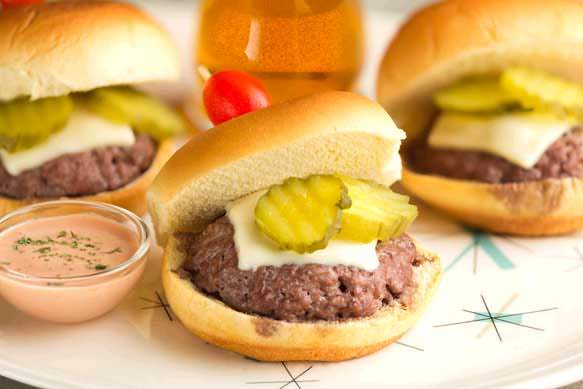 Directions
Yield: Makes 20 mini sliders; serves 10
To make the ketchup: In a medium-sized mixing bowl, stir together the ketchup, mayonnaise, and lager. Cover and refrigerate until ready to serve. The ketchup will keep for up to 1 week.
To make the sliders: Preheat the oven to 350°F.
In a large mixing bowl, mix the ground beef with the lager.
Scoop half of the bread from the bottom portion of the buns or English muffins. Press ground beef into the scooped out part of the bread and press the meat gently to fill the indentation and to mound it slightly.
Lay the filled bun halves, meat sides down, on a baking sheet. Bake for about 3 minutes, just to brown the meat lightly.
Remove the pan from the oven and turn the buns over. Top each with a slice of cheese, a few pickles and the top of the bun. Put the sliders on the baking sheet and return to the oven for about 5 minutes or until the meat is cooked to the desired degree of doneness.
Skewer each of the tomatoes with a sturdy plastic or wooden skewer or toothpick and insert each skewer in the top of the slider.
Serve the sliders with the ketchup.
Ingredients
Makes 20 mini sliders; serves 10
Ketchup:

2 cups ketchup
2 cups mayonnaise
2 ounces (¼ cup) Boston Lager

Sliders:

40 ounces ground beef
48 ounces (6 cups) Samuel Adams Boston Lager
20 small burger buns or English muffins, halved
40 slices American cheese, cut into 1-inch-square pieces
Sliced pickle chips
20 cherry or grape tomatoes