Close Nave
Chicken and Jack Cheese Dumplings with Samuel Adams Black Lager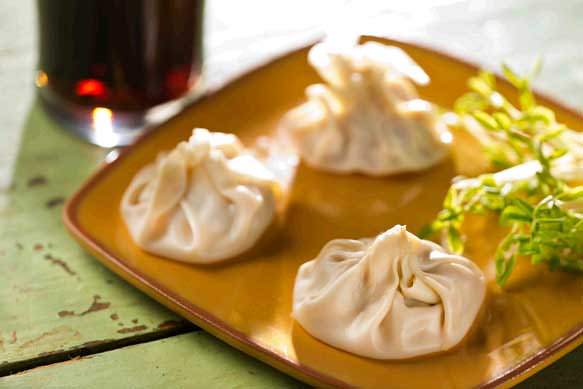 Directions
Yield: Serves 8 to 10 as an appetizer
In the bowl of a food processor, purée the ground chicken with 2 of the eggs until smooth. Transfer the chicken to a bowl and fold in the barbecue sauce, lager, cheese, chili powder, chives, salt, pepper, cumin, and coriander. Spoon the mousse-like mixture into a pastry bag fitted with a plain tip.
In a small bowl, whisk the remaining egg with 2 teaspoons of water for an egg wash.
Lay a few the wonton wrappers on a work surface and with a small brush, dampen the edges with the egg wash. Pipe about 3 tablespoons of the chicken filling into the center of the wrapper. Insert a 4-inch bamboo skewer into the chicken and then fold the corners of the wrapper up and around the skewer to seal. As the dumplings are made, transfer them to a platter or baking sheet coated with a little flour. Repeat with the remaining filling and wrappers. (If you don't have a pastry bag, use a teaspoon to form mounds of chicken filling in the center of the wonton wrappers.)
Bring a large pan of water to a boil over high heat. Drop the dumplings into the water, a few at a time, depending on the size of the pan, and once the water returns to a boil, cook for 5 minutes or until the meat is cooked through. Lift the dumplings from the water and serve hot.
Ingredients
Serves 8 to 10 as an appetizer
1 pound ground chicken
3 large eggs
1 cup storebought barbecue sauce
6 ounces (3/4 cup) Samuel Adams Black Lager
6 ounces pepper jack cheese, diced small
1 tablespoon chili powder
1 small bunch fresh chives, minced (about 10 chives)
1 tablespoon kosher salt
1 tablespoon freshly ground black pepper
1 teaspoon ground cumin
1 teaspoon ground coriander
20 square wonton wrappers (about 3 ½ inches square)
1 large egg mixed with 2 teaspoons water