Close Nave
Ginger Rice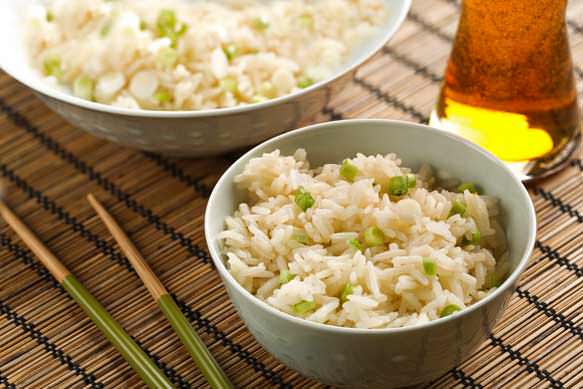 Directions
Yield: Serves 6 to 8
Preheat the oven to 375°F.
In an oven-safe saucepan, mix together the beer, rice, butter, ginger and bay leaf. Season lightly with salt, and pepper. Bring to a boil over medium-high heat and and boil until the bubbles on top of the rice and beer form holes in the surface.
Cover tightly with a lid or aluminum foil and transfer the pan to the oven. Bake for 20 to 30 minutes, or until the liquid is absorbed.
Remove the pan from the oven, fluff the rice with a fork, and remove and discard the bay leaf. Add the chopped scallions and serve right away or cover to keep warm.
Ingredients
Serves 6 to 8
24 ounces (3 cups) Samuel Adams Hefeweizen
2 cups long-grain rice
1 tablespoon unsalted butter
1 tablespoon finely chopped fresh ginger or 1 tablespoon powdered ginger
1 bay leaf
Kosher salt and freshly ground black pepper
About 3 tablespoons chopped scallions, white and light green parts