Close Nave
Grilled Teriyaki Fish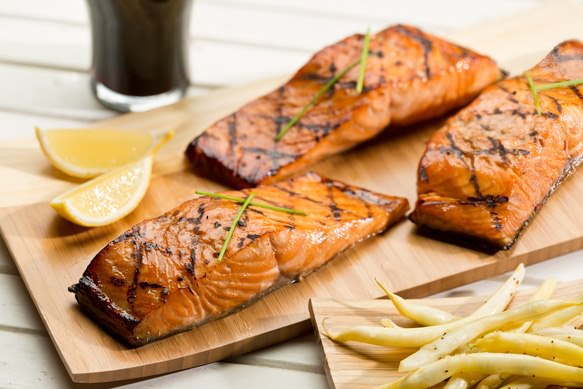 Directions
Yield: Serves 6 to 8
In a mixing bowl, whisk together the stout, soy sauce, honey, olive oil, sugar, sesame oil, garlic, ginger, liquid smoke, if using, red pepper flakes and black pepper. Lay the fish in a shallow glass, ceramic, or rigid plastic dish and pour the marinade over it. Turn the fish to coat, using your fingers or a brush to make sure it is well covered. Cover and refrigerate for 2 hours. Do not marinate for much longer or the fish will turn mushy.
Prepare a charcoal or gas grill so that it is medium hot. Or heat the broiler.
Lift the fish from the marinade and let any excess drip back into the dish. Spread the flour in a shallow dish and dip the fish in the flour to coat.
Grill the fish for 2 to 3 minutes on each side or until opaque and flaking but not dry. Depending on the thickness of the steaks, the fish may need a little more time. Brush the fish with the marinade as it grills.
Serve the fish immediately.
Variation: This marinade is delicious with large, shelled shrimp, which can be grilled threaded on skewers or arranged in a fish basket.
Ingredients
Serves 6 to 8
1/3 cup Samuel Adams Cream Stout
1/3 cup light soy sauce or 3 tablespoons tamari sauce
1/4 cup honey
2 tablespoons olive oil
1 tablespoon sugar
1 tablespoon dark sesame oil
2 cloves garlic, finely minced and crushed
1 teaspoon ground ginger
1/2 teaspoon liquid smoke, optional
1/8 teaspoon crushed dried red pepper flakes
Freshly ground black pepper
2/3 cup all-purpose flour
4 pounds mahi mahi or other firm fish, cut into steaks or fillets