Close Nave
Maple-Pepper Bacon Strips with Boston Lager Glaze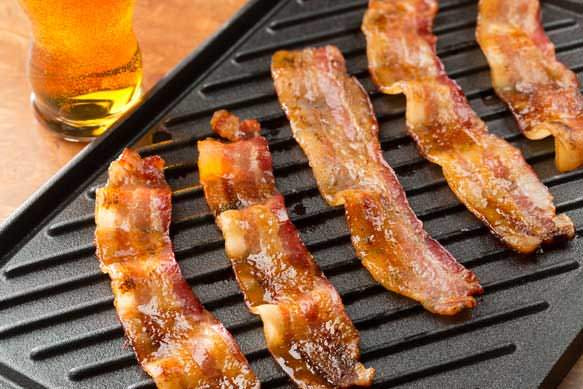 Directions
Yield: Makes 16 slices bacon
Preheat the oven to 300°F. Line a shallow, rimmed baking sheet (jelly roll pan) with parchment paper.
Lay the bacon on the pan and cover with another sheet of parchment paper. Bake for 14 to 15 minutes or until the bacon is nearly cooked through. Remove from the oven and reduce the oven temperature to 275°F.
Meanwhile, in a medium-sized saucepan, bring the honey and maple syrup to a boil over medium-high heat. Add the beer, reduce the heat to medium, and cook at a rapid simmer for about 5 minutes or until reduced by half. You will have about 2 cups of glaze. Stir in the Dijon and dry mustards.
Remove and discard the top sheet of parchment paper from the bacon and baste the bacon with the glaze. Return the baking sheet to the oven and cook for about 5 minutes longer or until the bacon is crispy. Drain on paper towels and serve hot.
Ingredients
Makes 16 slices bacon
16 slices thick-cut bacon
1 cup honey
1 cup maple syrup
16 ounces (2 cups) Samuel Adams Boston Lager
2 tablespoons grainy Dijon mustard
2 tablespoons dry powdered mustard