Close Nave
Old Fezziwig Ale Bread Pudding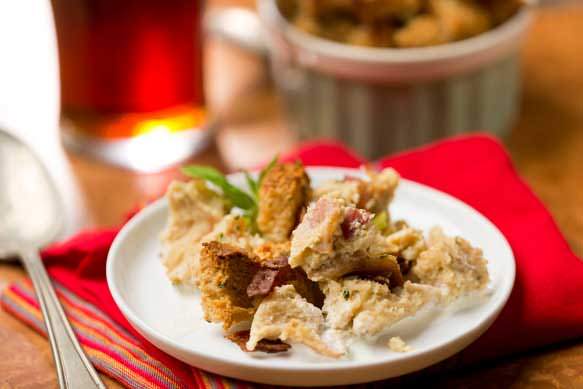 Directions
Yield: Serves 12
Preheat the oven to 350°F. Lightly butter twelve 4-ounce ramekins and set aside.
In a large mixing bowl, whisk together the eggs, cream and beer. Stir in the bacon, parsley, scallions and roasted garlic. Season lightly with salt and pepper
Spread the bread cubes in a shallow dish and pour the egg mixture over them. Set aside at room temperature for about 30 minutes to give the bread time to soak up the mixture. Or, refrigerate the bread and egg mixture for up to 1 hour.
Spoon equal amounts of the soaked bread in the ramekins. Arrange the ramekins in a roasting pan and pour enough warm water into it to come halfway up the sides of the ramekins. Bake in the center of the oven for about 45 minutes or until the center is nearly set but still a little wobbly. Raise the oven temperature to 400°F. and bake for about 10 minutes longer or until the center is set.
Serve the bread pudding straight from the oven.
Note: If you want to bake these early in the day, reheat them in a 325°F. oven for about 15 minutes, or heat them in the microwave.
Ingredients
Serves 12
2 tablespoons unsalted butter, softened
4 large eggs
1 cup heavy cream
8 ounces bacon, cooked until nearly crispy and crumbled
2 tablespoons minced flat-leaf parsley
2 tablespoons sliced scallions, white and light green parts
1 tablespoon roasted garlic (1 to 2 cloves)
Kosher salt and freshly ground black pepper
6 cups ½-inch-thick bread cubes
8 ounces (1 cup) Samuel Adams Old Fezziwig Ale