Close Nave
Oyster and Pumpkin Soufflé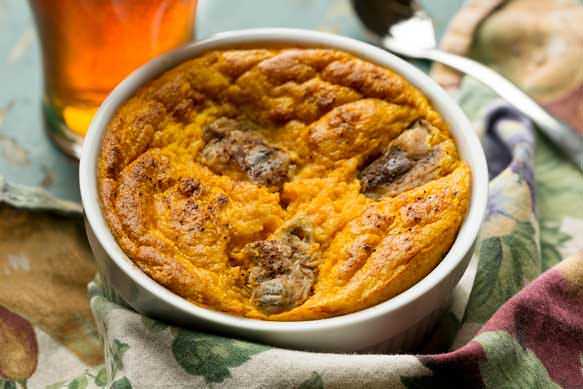 Directions
Yield: Serves 4
Preheat the oven to 400°F. Put a rack in the center of the oven.
Shuck the oysters and set the oyster meat aside. Reserve the oyster liquor.
Grease four six- or eight-ounce ovenproof ramekins or custard dishes with a little butter. Set the buttered ramekins on a baking sheet and refrigerate while preparing the soufflé mixture. (If you can't fit the baking sheet in the 'fridge, put the ramekins in the refrigerator without it.)
In a saucepan set over low heat, melt the butter and when it melts, stir in the flour and cook for about 1 minute. Add the pumpkin and reserved oyster liquor and stir until mixed. Add the cayenne and season to taste with salt and pepper.
Remove the pan from the heat and stir in egg yolks, 1 at a time. Return the pan to the heat and stir until thick and smooth. Remove from the heat and set aside.
In the bowl of an electric mixer fitted with the whisk attachment, beat the egg whites until stiff peaks form. Gently fold the beaten egg whites into the pumpkin mixture and spoon into the cold ramekins. Drop three oysters into each ramekin and dust each with nutmeg. If the ramekins are not on a baking sheet, put them on the sheet.
Slide the baking sheet onto the center rack of the oven and bake for 20 to 25 minutes, or until the tops are firm and golden brown. Serve immediately.
Ingredients
Serves 4
12 Bluepoint or similar oysters, shucked, liquid reserved
¼ cup unsalted butter, plus more for buttering the dish
¼ cup all-purpose flour
1 cup plain pumpkin puree (not "pie filling")
Pinch of cayenne
Kosher salt and freshly ground black pepper
4 large eggs, separated
Pinch of freshly grated nutmeg