Close Nave
Pretzel-Crusted Crab Cake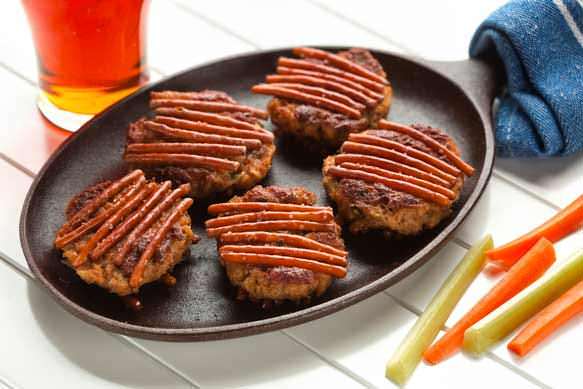 Directions
Yield: Serves 6; makes 12 crab cakes
In a medium-sized saucepan, heat the beer over medium heat but do not let it boil. Add the gelatin and continue to cook very gently until the gelatin melts. Stir well and set aside to cool to room temperature. Once the gelled mixture is cool, transfer to the refrigerator to chill and turn into a gelee.
In a small sauté pan, heat the oil over medium heat and when hot, cook the onion and celery for about 4 minutes, stirring, or until soft and translucent. Drain the excess oil and set the vegetables aside.
In a large mixing bowl, combine 1 cup (2 sticks) of the softened butter and mayonnaise. With a hand-held electric mixer or wooden spoon, beat until the mixture is well blended and very smooth. Fold the crabmeat, chives, lemon zest, crab seasoning, and cayenne into the butter mixture. In a small bowl, lightly beat the eggs and then stir in the onion and celery. Add to the crab meat mixture, mix well, cover, and refrigerate for about 15 minutes to chill slightly.
Line a baking sheet with parchment paper.
On a work surface, make a row of 6 pretzels, with the pretzel sticks touching each other to make a "raft," and top with the about 1/4 cup of the crab mixture. Arrange 6 more pretzels on top of the crab mixture, pressing them gently into crab mixture. Carefully, using a spatula or similar utensil, transfer the pretzeled crab cake to the baking sheet. Repeat with the remaining pretzels and crab mixture to make 12 crab cakes. Refrigerate for about 30 minutes or until firm.
Heat the remaining cup of butter in a large sauté pan over medium heat until melted and very hot. (You may not need all the butter at first, but will use it all as the crab cakes are cooked.) In batches, and adding more butter as needed, fry the crab cakes for about 3 minutes per side, or until they are golden brown. Drain the crab cakes on paper towels.
Serve the crab cakes with the reserved honey-ale gelee.
Ingredients
Serves 6; makes 12 crab cakes
1 1/2 cups (12 ounces) Traditional Ginger Honey Ale
4 sheets or 2 teaspoons powdered gelatin
1 tablespoon peanut oil
3/4 cup finely diced onion (1 small onion)
1/2 cup finely diced celery (about 2 ribs celery)
2 cups (4 sticks) unsalted butter, softened
1 cup mayonnaise
2 pounds lump crab meat, broken into large pieces
3 tablespoons minced fresh chives
1 tablespoon freshly grated lemon zest
2 teaspoons storebought crab seasoning, such as Old Bay
Pinch of cayenne
2 large eggs
2 ounces thin pretzel sticks (we like Japanese Pretz pretzel sticks or Bachman pretzel sticks)