Samuel Adams


Close Nave
Samuel Adams Boston Lager® Baked Beans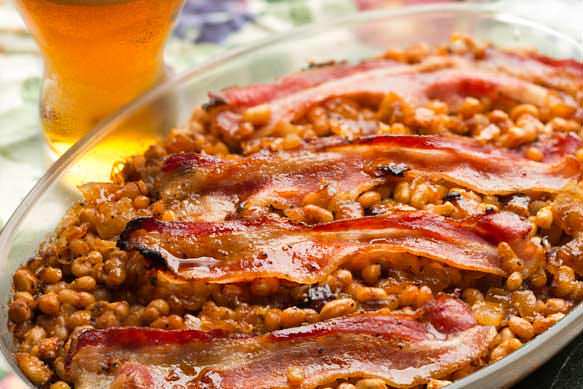 Directions
Yield: Serves 10 to 12
In a large pot, soak the beans in cold water to cover by about 1 inch for at least 6 hours and for as long as 12 hours or overnight. Change the water once or twice, if possible.
Drain the beans and return them to the empty pot. Add half the lager and enough water to cover by at least ½ inch. Season lightly with salt. Bring to a boil over high heat, reduce the heat to medium and simmer slowly for about 1 hour, or until the beans are tender. (Test them by pressing a bean against the roof of your mouth; if it squashes but still holds its shape, it is ready.)
Preheat the oven to 225°F.
Meanwhile, in a large skillet, heat the oil over medium heat and cook the onions for 8 to 10 minutes or until the onions are a deep, caramel brown.
Transfer the beans and any remaining liquid in the pot to a large casserole or Dutch oven. Add the onions, brown sugar, maple syrup, mustard, paprika, and pepper. Lay the strips of bacon over the top of the beans, pressing them down into them so they are partially submerged. Add the remaining lager and enough water to cover the beans. Season lightly with salt and pepper.
Bake, uncovered, for about 3 hours or until the beans are browned and cooked through. Serve hot.
Ingredients
Serves 10 to 12
2 pounds dry navy beans or another small white bean
24 ounces (3 cups) Samuel Adams Boston Lager
Kosher salt
1/4 cup oil or bacon drippings
3 onions, coarsely diced
3/4 cup packed light or dark brown sugar
3/4 cup pure maple syrup
1/3 cup dry powdered mustard
1 tablespoon paprika
2 teaspoons freshly ground black pepper
1 pound lean bacon
Freshly ground black pepper