Close Nave
Samuel Adams® Boston Lager Marinated Sirloin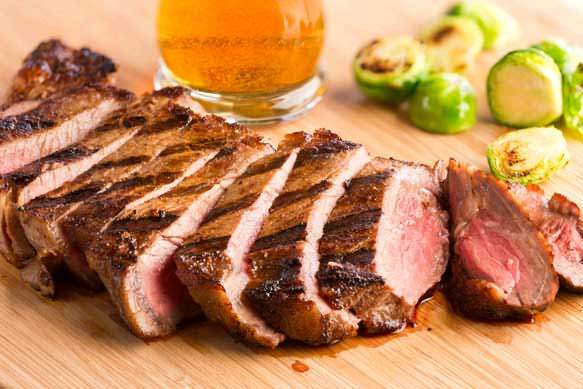 Directions
Yield: Serves 2 to 3
In a medium-sized bowl, combine the oil, beer, garlic, chili powder, both mustards, cayenne, paprika, and black pepper.
Lay the steak in a shallow glass, ceramic, or rigid plastic dish and pour the marinade over the meat. Turn the steak to coat it on both sides, cover, and refrigerate for at least 4 hours and up to 12 hours. Turn the steak a few times during marinating. Alternatively, put the steak in a sturdy, zipped plastic bag, add the marinade and manipulate the meat in the bag to coat it well.
Prepare a charcoal or gas grill so that it is medium hot. Or heat the broiler. Grill the steak for about 5 minutes on each side for medium-rare, or to your desired degree of doneness. Let the steak rest on a cutting board for about 5 minutes. Slice it crosswise against the grain and serve.
Ingredients
Serves 2 to 3
2 cups canola or other vegetable oil
8 ounces (1 cup) Samuel Adams Boston Lager
3 cloves roasted garlic, mashed
2 tablespoons chili powder
2 tablespoons Dijon mustard
1 tablespoon dry powdered mustard
1 tablespoon cayenne
1 tablespoon paprika
1 tablespoon coarsely ground black pepper
One 14- to 15-ounce sirloin steak, trimmed