Close Nave
Scallops Ceviche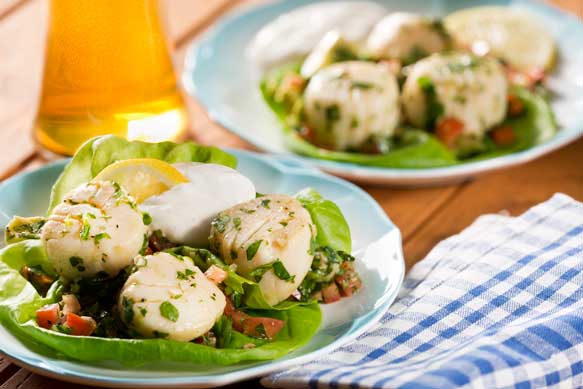 Directions
Yield: Serves 4
In a glass, ceramic or other nonreactive bowl, cover the scallops with the lime juice and ale. Toss gently to coat the scallops, cover, and refrigerate for 4 hours.
In another bowl, mix together the oil, garlic, scallions, chili, cilantro, parsley, coriander seeds, salt and pepper. Add the tomatoes and toss to mix.
Remove the scallops from the refrigerator and set aside at room temperature for 10 to 15 minutes to let the scallops' juices collect in the bowl.
Drain the scallops, reserving 1/4 cup of the marinade. Add the tomatoes, their dressing, and the avocado to the scallops. Dress with the reserved marinade and toss gently to mix. Take care not to mash the avocado.
In a small bowl, stir together the sour cream and crushed cumin seeds.
Divide the lettuce leaves among 4 salad plates. Spoon the scallop-tomato mixture over the lettuce and spoon a dollop of sour cream on each plate. Serve immediately or refrigerate until ready to serve.
Ingredients
1 pound scallops
2/3 cup freshly squeezed lime juice (5 to 6 limes)
3 ounces (1/3 cup) Samuel Adams Summer Ale
1/3 cup extra-virgin olive oil
2 cloves garlic, finely minced and mashed
2 scallions, white and light green parts, finely chopped
1 serrano or jalapeno chili, thinly sliced and then finely minced
2 tablespoons coarsely chopped cilantro
2 tablespoons chopped flat-leaf parsley
1/2 teaspoon lightly toasted coriander seeds, crushed
1/4 teaspoon kosher salt
1/4 teaspoon freshly ground black pepper
5 plum tomatoes, diced
1 cup sour cream
½ tablespoon cumin seeds, toasted and finely crushed
1 small ripe avocado, diced
1 small head leaf lettuce