Close Nave
The Ultimate Potato Soup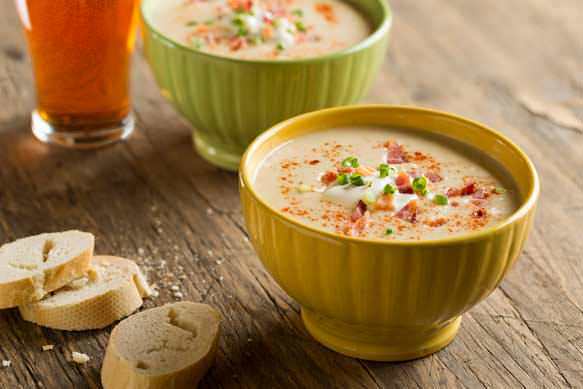 Directions
Yield: Serves 4 to 6
Peel the potatoes and put them in a bowl. Add enough water to the bowl to cover the potatoes. Set aside while you cook the vegetables.
In a Dutch oven or large pot, melt 2 tablespoons of butter over medium heat and sauté the bacon for 4 to 5 minutes or until lightly browned and crisp. Drain on paper towels and then set aside. Leave the rendered fat in the pot.
Melt 1 more tablespoon of butter in the pot and sauté the leeks and onions for 2 to 3 minutes or until wilted. Add another tablespoon of butter and when it melts, sauté the shallots and garlic for 2 to 3 minutes or until aromatic.
Add the broth and ale to the pot and bring to a simmer over medium heat.
Meanwhile, lift the potatoes from the water and dice them. Add to the hot broth with the herbes and a pinch of cayenne. Season to taste with salt and pepper. Bring to a simmer over medium heat and cook for 20 to 25 minutes, or until the potatoes are fork tender. Adjust the heat to maintain a brisk simmer,
Remove the pot from the heat and let the soup cool slightly. When cool enough to work with, puree the soup in a blender or food processor. Add the half-and-half to the blender, a little at a time, when you puree the soup. You will have to do this in batches. Return the pureed soup to the pot and heat gently until hot. Stir in the reserved bacon and season to taste with salt and pepper. Add more cayenne, if desired.
Ladle the soup into bowls and serve, topped with dollops of sour cream.
Ingredients
Serves 4 to 6
2 pounds russet potatoes (3 to 4 potatoes)
4 to 5 tablespoons unsalted butter
4 ounces Canadian bacon or thick-cut ham, chopped coarsely
1 large leek, white parts only, coarsely chopped
1 onion, finely chopped
1 shallot, finely chopped
1 large clove garlic, mashed
2 cups chicken broth, preferably homemade
6 ounces (3/4 cup) Samuel Adams Boston Ale
1/2 teaspoon herbes du Provence or French thyme
Pinch of cayenne, optional
Kosher salt and freshly ground black pepper
1 cup half-and-half
1/2 cup sour cream
Finely chopped flat-leaf parsley or scallions, for garnish