Close Nave
Tomato Curried Chicken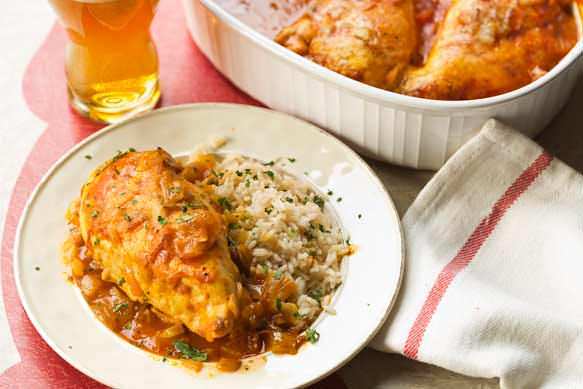 Directions
Yield: Serves 4
Preheat the oven to 350°F.
Arrange the chicken in a 9-b-13-inch baking dish.
In a medium-sized skillet, melt the butter over medium heat and when hot, sauté the onions for about 5 minutes or until they begin to soften. Add the soup, lager, curry powder, basil, and pepper. Reduce the heat and simmer over low heat for 10 or 12 minutes to give the flavors time to blend.
Pour the curry sauce over the chicken and bake for 50 minutes or until the chicken is cooked through and the sauce is bubbling hot. Sprinkle with grated cheese and bake for 10 minutes longer. Serve hot.
Ingredients
Serves 4
4 skinless, boneless chicken breast halves
2 tablespoons unsalted butter
1 onion, chopped
One 10.75-ounce can condensed tomato soup
7 ounces (2/3 cup) Samuel Adams Boston Lager
1 teaspoon curry powder
1/2 teaspoon dried basil
1/2 teaspoon freshly ground black pepper
1/4 cup grated parmesan cheese