Close Nave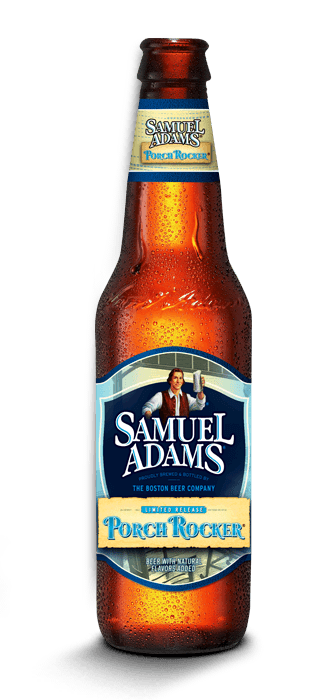 Samuel Adams
Porch Rocker
Perfect for any summer day, Samuel Adams® Porch Rocker™ is bright and citrusy with a fresh-squeezed lemon effervescence and a refreshing finish. Crisp & tangy, with its combination of lager & tart lemonade this unique summer quencher is our take on the Bavarian Radler, named for cyclists that originated this drink.
HOP VARIETIES
Tettnang Tettnanger
MALT VARIETIES
Samuel Adams two-row pale malt blend
YEAST STRAIN
Bottom-fermenting Lager
COLOR
Golden straw, SRM: 6
SPECIAL INGREDIENTS
Lemon
ALC. BY VOL/WT
4.5% ABV - 3.4%ABW
Food Pairings
Complement

Contrast
Every Craft Beer
Has a Story
THE TOOLS

By mixing beer & tart sparkling lemonade, German cyclists (called Radlers) helped inspire a crisp, refreshing drink perfect for long hot days. With that inspiration, we developed our own lemon blend for a fresh squeezed lemon taste, & combined it with a golden Helles lager creating a sweet, tangy & thoroughly refreshing brew.

THE TRADE

To create Porch Rocker, we first brewed a Helles, a German lager whose name translates to "light colored". Our Helles is a golden straw color with a light maltiness and subtle hop note. To turn this into a Radler we combined this lager with our own lemon blend to create just the right balance of sweetness, subtle tartness, and effervescence.

THE LEGACY

A traditional Bavarian Radler is beer mixed with German-style lemonade, or lemon soda. This refreshing concoction got its name from the German cyclists that first inspired its creation. In the 1920's a Bavarian innkeeper developed the drink when a large group of cyclists stopped by and he realized he didn't have enough beer to go around. So he mixed what little he had with lemon soda and called it Radlermass (or cyclist's liter) and the style quickly took off . Today, Radlers are still enjoyed across Bavaria where they mix the beer and lemonade at the tap.