Close Nave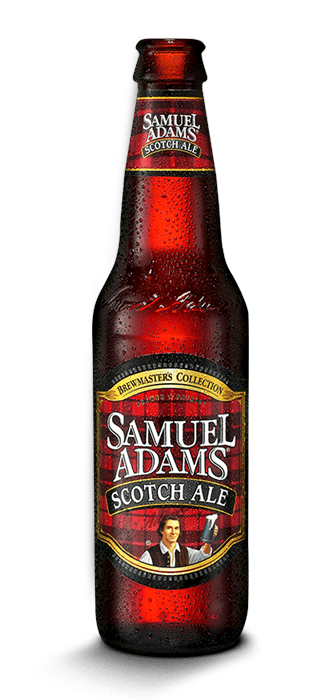 Samuel Adams
Scotch Ale
Find Near You
Smoky, malty and brewed with traditional British ale hops, this is a brew for adventurous beer drinkers.
HOP VARIETIES
East Kent Goldings and Fuggles
MALT VARIETIES
Samuel Adams two-row pale malt blend, Munich 10, Caramel 60, chocolate malt, and peated malt
YEAST STRAIN
Top-fermenting Ale
COLOR
Dark red amber, SRM: 29
SPECIAL INGREDIENTS
ALC. BY VOL/WT
5.5% ABV - 4.3% ABW
AVAILABILITY
Limited Release
Every Craft Beer
Has a Story
THE TOOLS

This is a big brew dominated by malt flavors and aromas, rich and full-bodied with a slight sweetness. Our Scotch Ale starts with several malts including a blend of two-row pale malts, Munich, chocolate malt, and a rare peat smoked malt commonly used by distillers of Scotch whiskey. This unique malt gives our ale its distinct smoky character and deep amber hue. The smokiness is carefully balanced with traditional English hops, Goldings and Fuggles.

THE TRADE

We use a peat-smoked malt, only found in Scotland, that's a signature ingredient in their legendary whiskies. This special smoked malt evokes the smells and flavors of Scotland, and complements the sweet and roasty malt character of the brew. The earthy hop character and distinctive smoky and roasted malts create a rich, robust, and complex brew.

THE LEGACY

Traditional Scotch ales are known for their deep brown color, low hop bitterness and rich mouth feel. The stronger examples of the styles are also known as "wee heavies." The addition of peat smoked malt is common in craft versions of this style but isn't called out in Scotland. The traditional Scotch Ales took on this peat smoked flavor through all of the local malts that they used.