Close Nave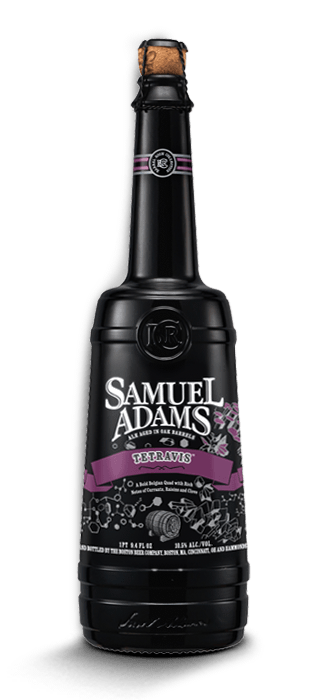 Samuel Adams
Tetravis
Find Near You
Bold & rich, this enveloping quad builds its force and character through interlacing layers of flavor. Its deep complexity begins with a molasses sweetness with notes of dark fruits like raisins and figs but develops further with an undercurrent of tart spice from its distinctive Belgian yeast for a truly transfixing brew...
HOP VARIETIES
Hallertau Mittelfrueh Noble hops
MALT VARIETIES
Samuel Adams two-row pale malt blend, Special B, Carafa 1, and Munich
YEAST STRAIN
Belgian-style ale yeast, bottle conditioned with champagne yeast
COLOR
Dark brown with hints of garnet/ 35 SRM
SPECIAL INGREDIENTS
Kosmic Mother Funk, brewing sugar
ALC. BY VOL/WT
10.2%ABV – 8% ABW
AVAILABILITY
Year-round, 750 ml Bottle
Every Craft Beer
Has a Story
THE LEGACY

All of our beers in the Barrel Room Collection are inspired by the Belgian brewers approach to blending, aging and conditioning. Tetravis is blended with Kosmic Mother Funk, a Belgian ale aged in Hungarian oak tuns for up to 12 months. KMF adds layers of complexity and flavor to the backbone of malty sweetness creating a spectrum of flavors from earthy and spicy to floral and sweet.

THE TOOLS

The newest addition to our Barrel Room Collection, Samuel Adams Tetravis is our take on a traditional Belgian Quad. A style originated by Belgian Trappist brewers, a Quadrupel (Quad for short) is a strong Belgian style ale featuring more intense flavors than its Dubbel and Tripel sisters. Quads are known for their rich, malty character and deep garnet and dark brown hues. Tetravis is a rich and complex brew with a deep molasses sweetness and notes of dark fruits, like raisins and figs. An undercurrent of tart spice and fruitiness is developed from the distinctive Belgian yeast and character of our Kosmic Mother Funk (KMF).

THE TRADE

The distinctive spicy and clove notes of the Belgian style come through here but this brew's richness and complexity come from its combination of rich, roasty malts, and barrel aged Kosmic Mother Funk (KMF). The combination of malts and brewing sugar create a deep garnet color and velvety mouthfeel with a big malty character. The rich malts are balanced by the distinct flavors of the Belgian yeast, KMF and Hallertau Mittelfrueh Noble hops.