From kitchens, basements and garages around the country, homebrewers created and put forth their best brews for the 2016 Samuel Adams LongShot American Homebrew Competition.
More than 1.2 million people in the U.S. brew their own beer and for the past 20 years Sam Adams has provided an unmatched opportunity for three homebrewers to have their beer brewed and distributed nationally for beer lovers to enjoy.
Winning entries for this year's national LongShot contest are David Cousino's Barnstorm Saison and Duane Wilson's Wild Child, and, in the competition among Samuel Adams employees, Graham Johnson's Coffeehead Imperial Stout.
These winning brews are now on shelves in a special six-pack April 2017, and will also be available on draft and at beer festivals nationwide. Check out our Beer Finder to see where it's available near you!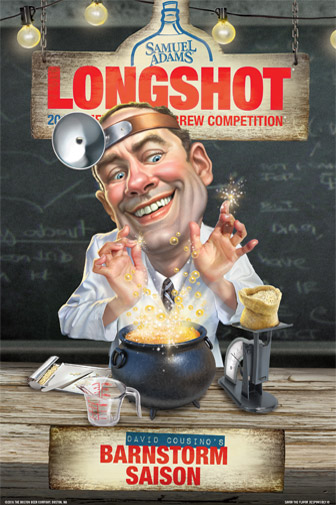 David Cousino's
Barnstorm Saison
Hometown:
Avon, OH
The beer in his own words:
A nice farmhouse ale with soft malt character, delicate floral notes, and a hint of pepper.
Favorite thing about homebrewing:
In my profession as a pharmacist, everything is hard science. While that serves me well in this hobby, it does not begin to describe the magic of fermentation. I create the best wort I can by carefully calculating, measuring, and observing. Then the real magic happens. That transition from what I can control to what I cannot is the heart of the allure of this wonderful hobby.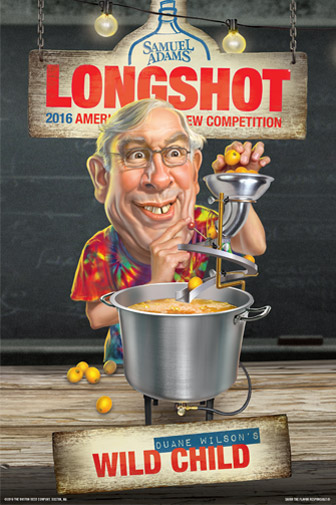 Duane Wilson's (with co-brewer Mike Edwards)
Wild Child
Hometown:
Horseheads, NY
The beer in his own words:
I first get an aroma of fresh apricots. As you taste the beer you taste sour with a nice dryness. This morphs into the tartness of kumquats with a subtle apricot background followed by a lingering tartness on your tongue.
Favorite thing about homebrewing:
I love to cook. Making beer's a lot like that. We strive to make a lot of styles and we're always looking to improve them. I enjoy the engineering that goes into making a primo beer.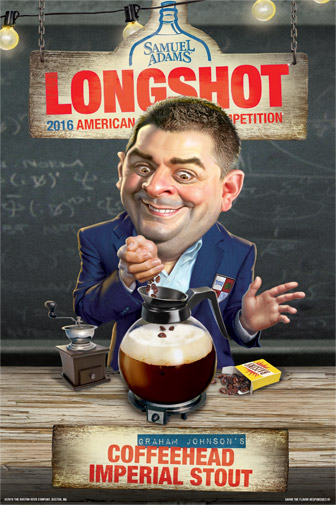 Graham Johnson's
Coffeehead Imperial Stout
Hometown:
Marblehead, MA (and a proud member of Boston Beer Company's Business Analysis Department)
The beer in his own words:
Coffee, chocolate, and dark fruit notes on the nose. Strong, thick mouthfeel – coats your mouth. Finishes slightly sweet but doesn't overpower the strong coffee essence.
Favorite thing about homebrewing:
Love the attention to detail and making something you can enjoy. For me, it's a similar satisfaction to cooking a big holiday dinner, only it lasts longer!
2016 LongShot American Homebrew Contest Finalists
Brian Ferullo from Bel Air, MD with a Specialty Beer (American Rye)

Dennis Abrahams from Nashville, TN with a Strong British Ale (English Barleywine)

Jennifer Pereira from Providence, RI with a Historical Beer (Lichtenhainer)

Mark Witzel from Douglasville, PA with a European Sour Ale (Fruit Lambic)

Myra Oxonian from Montara, CA with a Pale Bitter European Beer (German Helles Export bier)