Samuel Adams


Close Nave
Grilled Asparagus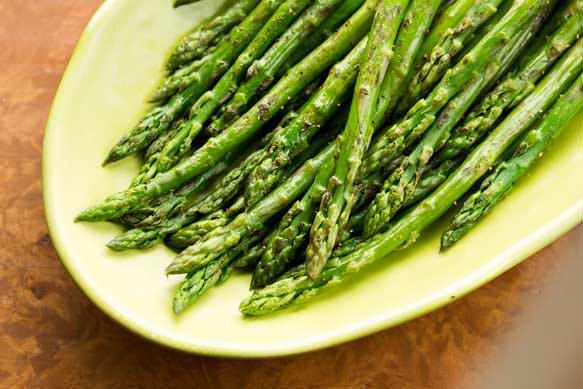 Directions
Yield: Serves 4
Add enough water to come up about 1 inch up the sides of a large, deep skillet, Salt the water lightly and bring to a boil over medium-high heat. Reduce the heat to medium, add the asparagus spears, and let the water return to a good simmer. Cover tightly and steam for about 2 minutes or until the asparagus begins to soften. Lift the asparagus from the water with tongs or a large, slotted spoon and arrange in a single layer on a platter or tray.

Drizzle the asparagus with olive oil and season to taste with salt and pepper.

Prepare a charcoal or gas grill so that it is medium hot.

Grill the asparagus for 5 or 6 minutes or until nicely charred and cooked through. Turn the spears once or twice during grilling. Serve hot off the grill or at room temperature, seasoned to taste with salt and pepper.
Ingredients
Serves 4
1 large bunch (about 1 pound) asparagus
2 tablespoons olive oil
Kosher salt and freshly ground black pepper