Samuel Adams


Close Nave
Noble Pils Ham with Pineapple Tart Tartin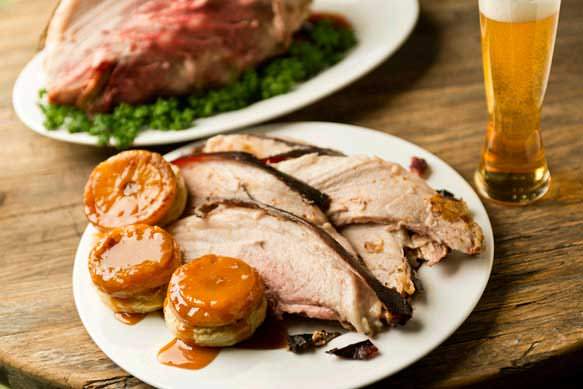 Directions
Yield: Serves 12 to 14
To cook the ham: In a large pot, bring the beer to a boil over medium-high heat. Reduce the heat to a simmer and add the sugar, mustard, syrup, and soy sauce. Let the mixture return to a brisk simmer and cook for 10 to 12 minutes or until the liquid reduces by about half. Add the orange zest, cinnamon and ginger, stir well and remove the pot from the heat. Let the marinade stand for about 10 minutes.
Put the ham on a rack in a roasting pan. Generously baste it with the glaze and season with salt and pepper. Cover the ham and refrigerate for at least 3 hours and up to 10 hours. Baste it several times during marinating.
Preheat the oven to 375°F.
Roast the ham, uncovered, for about 5 1/2 hours, or until an instant-read thermometer inserted into the center of the ham near to but not touching the bone reads 160°F. Brush the ham with the glaze several times during roasting. Remove the ham from the oven and transfer it to a serving platter.
To make the tart tatin: Cut off each end of the pineapple, peel, and core it. Cut the fruit crosswise into 1/2-inch-thick rings. Season each pineapple ring with black pepper and green peppercorns. Set aside.
Lightly butter six 3-inch-round, nonstick molds. Set aside.
Preheat the oven to 350°F.
In a saucepan, combine the sugar and 1/4 cup of water and bring to a boil over high heat. Lower the heat and simmer for about 15 minutes, or until the sugar caramelizes and the temperature reads 350°F on a candy thermometer. Remove the syrup from the heat and immediately add the chilled butter, beating it with a wooden spoon until incorporated. Spoon caramel into each of the 6 prepared molds and top with a pineapple ring. Set the molds on baking sheets and roast for about 10 minutes.
Take the molds from the oven and top each one with a puff pastry round.
Whisk the egg yolk with 1 tablespoon of water and brush the pastry with the egg wash. Return the molds to the oven and bake for 25 minutes longer, or until the puff pastry rises and turns golden brown. Let the pastries rest for 2 or 3 minutes and then invert them onto a platter. Arrange the warm tarts on the platter and serve alongside sliced ham.
Ingredients
Serves 12 to 14
Ham:

4 1/2 cups (36 ounces) Samuel Adams Noble Pils
1 cup sugar
1 1/2 cups Dijon mustard
1 cup maple syrup
1/2 cup soy sauce
About ¼ teaspoon grated orange zest
Pinch of ground cinnamon
Pinch of ground ginger
1 fresh ham, about 14 pounds, trimmed of excess fat
Kosher salt and freshly ground black pepper

Pineapple tart tartin:

1 large pineapple
3 tablespoons coarsely ground black pepper
3 tablespoons whole green peppercorns
1 tablespoon unsalted butter, softened, for buttering tart molds
2 cups sugar
2 tablespoons unsalted butter, chilled
Six 3-inch-round puff pastry circles
1 large egg yolk