Samuel Adams


Close Nave
Quick Fried Oysters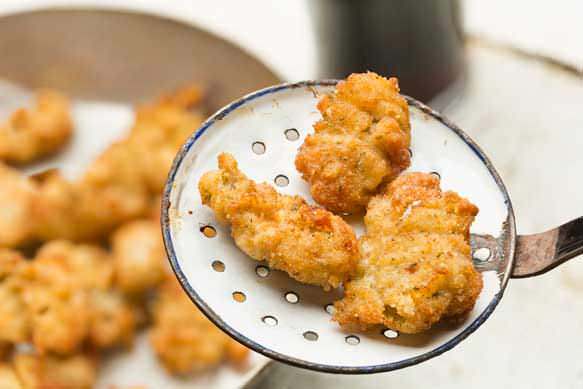 Directions
Yield: Serves 4
In a small, shallow bowl and using a fork, beat the eggs with the salt, pepper and cayenne. Whisk in 2 tablespoons of water. Spread the breadcrumbs in another shallow bowl.
Lift an oyster from the container and let any excess liquid drip off. Dip the oysters, 1 at a time, into the egg mixture and then in the crumbs to coat. As each one is coated, set it aside on a wax paper-lined baking sheet to dry. Let the oysters rest for about 5 minutes before frying to give the coating time to set.
Pour enough oil into a large, heavy pot to reach a depth of 3 inches. Heat over medium-high heat until the oil registers 375°F. on a deep-fat fryer thermometer.
Using a slotted spoon, fry the oysters for 2 to 4 minutes, or until golden brown. The time will depend on the size of the oysters. Lift the oysters from the oil and let them drain on paper towels. Sprinkle them lightly with salt. If you fry them in batches, let the oil regain its temperature between times.
Serve immediately with tartar sauce or cocktail sauce.
Ingredients
Serves 4
2 large eggs
1/2 teaspoon kosher salt
1/8 teaspoon pepper
Pinch of cayenne, optional
1 cup fine dry breadcrumbs
24 large oysters, shucked
Vegetable oil, for frying
Kosher salt
About 1 1/2 cups storebought tartar sauce or cocktail sauce