Samuel Adams


Close Nave
Sam Adams Light Ribs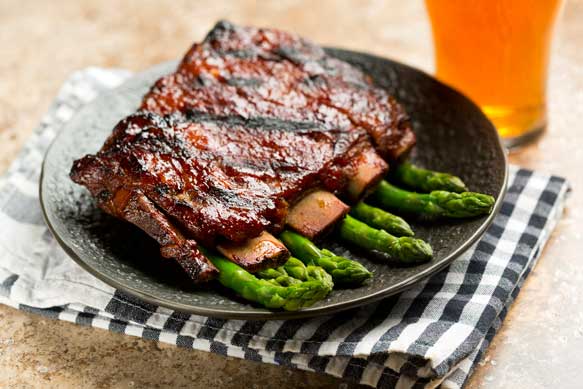 Directions
Yield: Serves 4
Put the ribs in large Dutch oven and cover with 2 cups of the beer. Bring to a boil over high heat, reduce the heat to low, cover, and simmer gently for 1 hour or until the ribs are fork tender. Adjust the heat to maintain a very low simmer.
Meanwhile, in a medium-sized saucepan, combine the honey, ketchup, vinegar, apple juice, garlic, cumin, hot sauce, salt, and 2 tablespoons of beer to a boil. Reduce the heat to low and simmer, uncovered, for 15 to 20 minutes, or until thick.
Prepare a charcoal or gas grill so that it is medium hot, or preheat the oven to 450°F.
Lay the ribs on the grilling rack or put them in a roasting pan. Brush them with the honey mixture and cook for about 20 minutes, or until heated through and nicely browned. Brush them 2 or 3 times and turn them once. Serve hot.
Ingredients
Serves 4
36 ounces (4 1/2 cups) Sam Adams Light
2 pounds pork spareribs
2 tablespoons honey
2 tablespoons ketchup
2 tablespoons apple cider vinegar
2 tablespoons apple juice
1 clove garlic, minced
1 1/2 teaspoons ground cumin
1 1/2 teaspoons hot pepper sauce, such as Tabasco
1/2 teaspoon salt