Samuel Adams


Close Nave
Samuel Adams® Scotch Ale Braised Short Ribs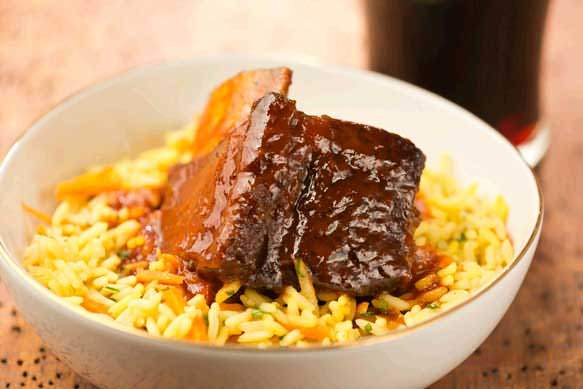 Directions
Yield: Serves 4
Preheat the oven to 325°F.

In a deep, heavy-bottomed, oven-proof pot or Dutch oven, heat the oil until hot and shimmering. Season the short ribs lightly with salt and pepper and brown in the hot oil on all sides. You may have to do this in batches. As the ribs are browned, lift them from the pot and set aside.

Pour out all by 1 tablespoon of oil from the pot. Add the onion, carrot, garlic, and bay leaf to the pot and cook over medium heat for 5 or 6 minutes or until lightly browned and softened. Stir in the tomato paste and cook, stirring, for 1 minute. Add the ale, honey and molasses and whisk well to blend the flavors and ingredients. Return the ribs to the pot.

Cover with foil or a tight lid and braise on the center rack of the oven for about 1 1/2 hours or until the meat on the ribs is tender when pierced with a fork. The time will depend on the size and meatiness of the ribs.

Carefully lift the ribs from the pot and arrange them on a serving platter.

Strain the braising liquid and discard the vegetables. Return the strained liquid to the pot and bring to a rapid simmer over medium heat. Cook until slightly thickened, season to taste with salt and pepper. Spoon the sauce over the ribs and serve immediately with the rice on the side.
Ingredients
Serves 4
1/4 cup canola oil
2 pounds beef short ribs
Kosher salt and freshly ground black pepper
1 large white onion, chopped
1 large carrot, peeled and chopped
2 cloves garlic, chopped
2 bay leaves
one 12-ounce can tomato paste
24 ounces (3 cups) Samuel Adams Scotch Ale
1/2 cup honey
1/2 cup molasses