Samuel Adams


Close Nave
Scallops Eschabech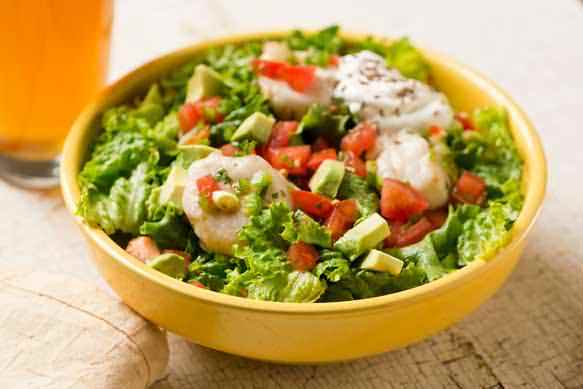 Directions
Yield: Serves 4
Combine the scallops, lime juice, and Samuel Adams® beer, stirring gently. Marinate in refrigerator 4 hours.
While marinating, mix together the garlic, chili, oil, scallions, cilantro, parsley, coriander, salt, pepper, and plum tomatoes with the scallop mixture. Let stand at room temperature 3 to 4 hours. Drain and be sure to reserve 1/4 cup of marinade.
Combine scallops, tomato mixture, diced avocado, and reserved marinade, tossing gently to coat the scallops.
Spoon one-fourth of the scallop mixture over greens arranged on a salad plate.
Combine the sour cream and toasted seeds and place a dollop on each plate. Refrigerate until served.
Ingredients
Serves 4

1 pound scallops

2/3 cup freshly squeezed lime juice

1/3 cup Samuel Adams® Summer Ale

2 cloves garlic, finely minced and mashed

1 serrano chili, thinly sliced and finely minced (wear rubber gloves)

1/3 cup extra virgin olive oil

2 scallions, finely chopped

2 tablespoons coarsely chopped cilantro

2 tablespoons chopped Italian (flat-leafed) parsely

½ teaspoon lightly toasted coriander seeds, crushed

¼ teaspoon each freshly ground black pepper and salt

5 plum tomatoes, chopped in ¼ inch pieces

1 small rip avocado, chopped into 1/3 inch pieces

1 small head leaf lettuce

Garnish Ingredients:

1 cup sour cream

½ tablespoon cumin seeds, toasted and finely crushed