Welcome to the Samuel Adams Boston Brewery Tap Room
For the first time ever, you can stop by our Tap Room and enjoy a beer at the Boston Brewery. Our Tap Room gives drinkers the opportunity to try innovative and experimental styles that are not available anywhere else. Enjoy pints, flights, and you can even take home a crowler of select styles.
Our Tap Room will be open from 11AM – 8PM Monday through Saturday, so come on by and grab a beer. Follow @BostonBreweryTapRoom on Instagram to stay up to date on events and beer releases.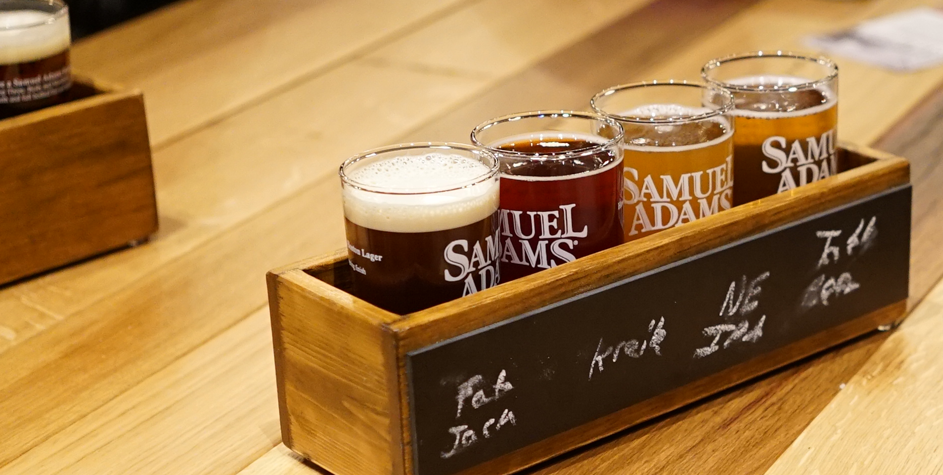 Brewer's Flight Night
Join us at the Boston Brewery Tap Room every Wednesday for our Brewer's Flight Night. Each week our brewers will be hand selecting four of their favorite beers to bring you a different tasting experience with every visit. Don't miss out on these exclusive styles and R&D beers that you can only find here. Get a free taco from our friends at Chilacates with the purchase of any beer flight.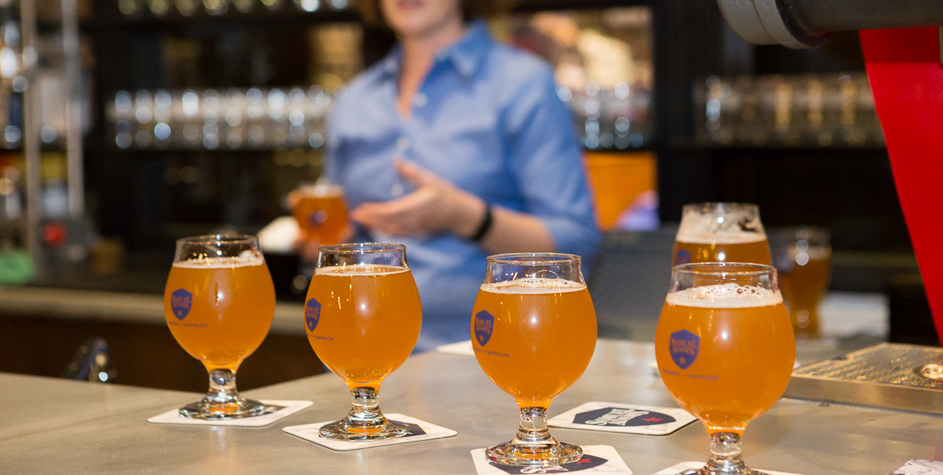 STUMP TRIVIA NIGHT
Grab your smartest friends and join us at the Boston Brewery Tap Room every Thursday from 6PM – 8PM for Stump Trivia. Prizes will be awarded to the top three teams, so be sure to bring your A-game. Enjoy new experimental beer styles on draft available for purchase each week.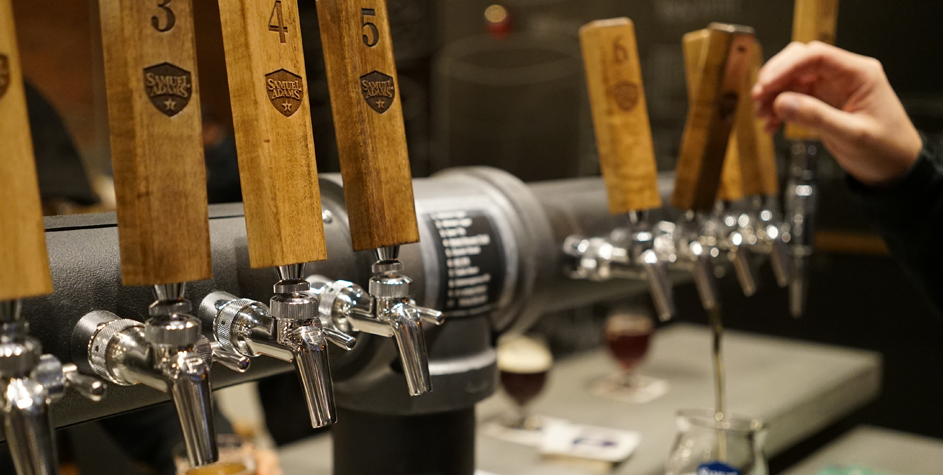 What's On Tap
Boston Lager (5.0%)

The Classic. Bold, rich and complex, this lager balances caramel and toffee notes with hints of spicy pine and citrus from Noble hops.

Summer Ale (5.3%)

American wheat ale that balances bright citrus, Noble hops, and the peppery spice of Grains of Paradise for a lively brew that's perfect on any summer day.

Sam 76 (4.7%)

The perfect union of an ale and a lager. Using both yeast and American hops, this refreshing beer has a juicy citrus hop aroma with low bitterness and a clean, easy drinking finish.

New England IPA (6.8%)

Purposely unfiltered, this hazy New England Style IPA has a burst of fruited hop aroma. Low bitterness with hints of grapefruit and pineapple. Served as a 12 oz pour.

Boston 26.2 Brew* (4.5%)

Gose style ale brewed in partnership with the Boston Athletic Association to celebrate the marathon. Soft wheat and citrus character with hints of salt and coriander and a clean finish.

The Real Alewives of Boston (8.2%)

Proceeds go to benefit the Pinks Boot Society. A super hazy and fruity New England style DIPA. Smooth and approachable aroma of hops to the nose, with a medium-dry finish. Served as a 12oz. pour.

Oaked Vanilla Porter(5.7%)

Deep chocolate color and malty, toffee flavors. Comes together perfectly with a hint of vanilla on the finish. Flavorfull dark malt character aged over oak chips.

House Helles (5.5%)

A classic refreshing malt accentuated lager that is not overly sweet. Soft and dry finish with hints of cracker and light bready notes.

American Brown* (6.3%)

The American take on an English classic its malty body is balanced by citrusy hops from the west coast of America. Deep brown in color and a strong roasted malt finish.

Export Lager (6.0%)

A pale and well balanced German Lager made popular in the 19th century. A smooth and refreshing brew with a medium body, clean finish, and notes of biscuit.
*denotes style NOT available for sale in crowlers