Close Nave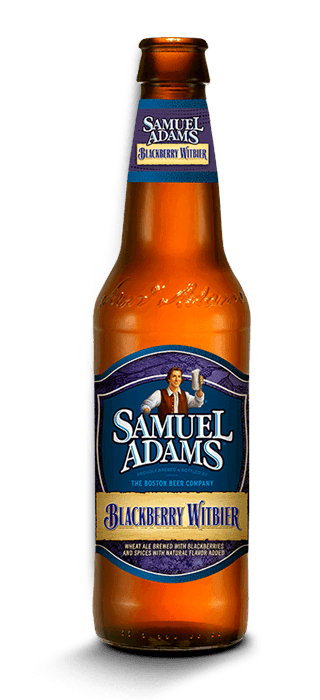 Samuel Adams
Blackberry Witbier
Find Near You
We balance the signature witbier flavor of orange peel, coriander, and malted wheat with the mellow sweetness and tartness of Marion blackberries, harvested from family farms at the foot of the Cascades in Oregon.
HOP VARIETIES
Hallertau Mittelfrueh
MALT VARIETIES
Samuel Adams two-row pale malt blend and malted wheat
YEAST STRAIN
Top-fermenting Ale
COLOR
Hazy golden, SRM: 7
SPECIAL INGREDIENTS
Marion blackberries, orange peel, coriander
ALC. BY VOL/WT
5.5% ABV - 4.3% ABW
AVAILABILITY
Limited Release
Every Craft Beer
Has a Story
THE TOOLS

Blackberry Witbier complements a traditional witbier's wheat and citrus flavors with the sweetness and tartness of blackberries. We looked for blackberries that created just the right touch of sweetness and flavor without becoming overpowering. Oregon Marion blackberries were the perfect fit. These distinctive berries have been grown on family farms located at the foot of the Cascade Mountains in Western Oregon, where they've been growing some of the best blackberries for generations.

THE TRADE

Malted barley and wheat give the beer its light body and cereal character while a hint of orange peel and coriander give a subtle citrus and spice character. But the signature flavor of this brew comes from the sweetness and tartness of blackberries. The blackberries are brought together with a hint of orange peel and coriander to complement the wheat character for a smooth, refreshing brew that's both sweet and tart.

THE LEGACY

A classic Belgian style, witbier literally translates to "white beer." The name comes from the pale color and cloudiness of the beer, derived from its unfiltered wheat and the suspended yeast it contains. Witbiers evolved from medieval beers that used spices, rather than hops, to flavor and preserve them. Although hops are now used in this style, they're flavor and bitterness is subtle, allowing the characteristic orange peel and coriander spices to shine through.