Close Nave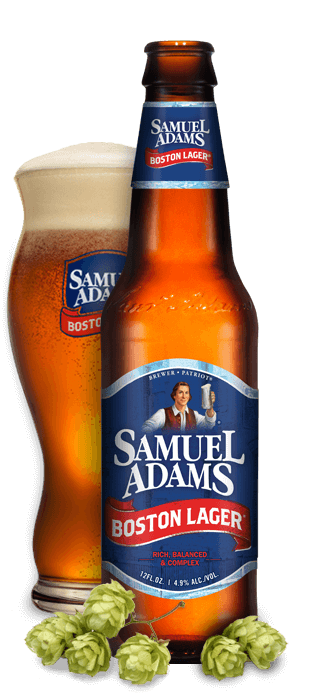 Samuel Adams
Boston Lager
Find Near You
This Go To Beer™ started it all. Samuel Adams Boston Lager helped lead the American beer revolution, reviving a passion for full-bodied brews that are robust and rich with character. Since 1984, Samuel Adams Boston Lager has used only the finest hand-selected ingredients to create this perfectly balanced, complex and full-bodied original brew.
HOP VARIETIES
Hallertau Mittelfrueh and Tettnang Tettnanger Noble hops
MALT VARIETIES
Samuel Adams two-row pale malt blend and Caramel 60
YEAST STRAIN
Samuel Adams lager
COLOR
A deep amber to golden, 11 SRM
SPECIAL INGREDIENTS
ALC. BY VOL/WT
4.9%ABV - 3.8%ABW
Food Pairings
Complement

Cut
Every Craft Beer
Has a Story
THE TOOLS

Samuel Adams Boston Lager uses only the finest ingredients, including two-row malted barley and Bavarian Noble hops. The sole use of two-row barley not only imparts a full, smooth body but also gives the beer a wide spectrum of flavor ranging from toffee to toasted. We also take great pride in the Noble hops we use – they're hand selected by Jim Koch and our brewers from the world's oldest hop growing areas. The Hallertau Mittelfrueh and Tettnang Tettnanger Noble hops add a wide range of floral, piney and citrus notes, which are present from the aroma, through the taste, and all the way to the lingering smooth finish.

THE TRADE

Following Jim Koch's great-great grandfather's recipe, we continue to use traditional brewing processes, including decoction mash (a four vessel process) and krausening (a secondary fermentation), which allows the high quality ingredients in Samuel Adams Boston Lager to come together and form layers of complex flavor. The brew is also dry hopped using the Hallertau Mittelfrueh hops for an enhanced hop signature in the aroma and finish. The process may be labor intensive, but it's essential in developing the distinct, balanced flavor of Samuel Adams Boston Lager.

THE LEGACY

When it was introduced in 1984, Samuel Adams Boston Lager was a complex and full-bodied craft beer in a world of thin, light-bodied mass marketed beers. Jim named his beer after the patriot Samuel Adams, because he helped lead the Revolution and was a brewer by trade. Soon after it was introduced, Samuel Adams Boston Lager was named "The Best Beer in America" in the Consumer Preference Poll at the Great American Beer Festival. Today, Boston Lager continues to win awards at beer competitions around the world and sets the standard for all of our brews.