Close Nave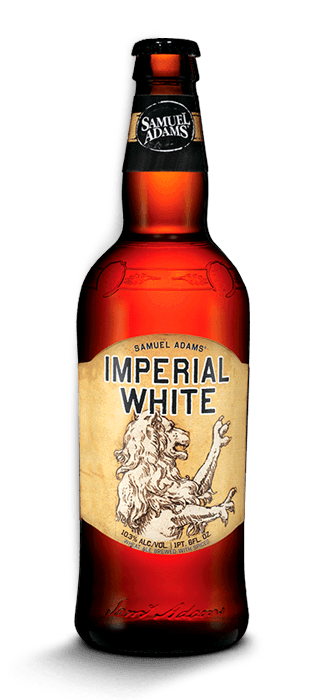 Samuel Adams
Imperial White
Find Near You
This golden concoction begins with the soft sweetness of its witbier roots with hints of orange and citrus. Yet these familiar flavors are taken to the next level with an exotic blend of spices reminiscent of medieval brewing. From coriander to dried plum and anise the spices combine with a bolder, richer flavor for a warm, spicy brew that's smooth and refreshing.
HOP VARIETIES
Hallertau Mittelfrueh
MALT VARIETIES
Samuel Adams two-row pale malt blend, and malted wheat
YEAST STRAIN
Top-fermenting Ale
COLOR
Hazy amber, SRM: 17
SPECIAL INGREDIENTS
Orange & lemon peel, dried plum, Grains of Paradise, coriander, anise, hibiscus, rose hips, tamarind, vanilla
ALC. BY VOL/WT
10.3% ABV - 8.0% ABW
Every Craft Beer
Has a Story
THE TOOLS

Pushing the boundaries of a witbier, this complex brew takes the traditional aromas and flavors of orange and coriander to a new level with a bigger mouthfeel, body from the large quantities of malt and a hazy appearance from the wheat.

THE TRADE

Brewed with malted wheat and large quantities of two-row pale malts, the brew house smells fantastic when we're mashing in this beer. The large malt bill leads and higher gravity leads to a warming nature of a higher ABV brew. When enjoying the beer you'll notice that as the beer warms and opens up, you start to get complex flavors of dry fruits, exotic spices, and floral blossoms. These are flavors typically associated with wine and spirits, but they are showcased in our Samuel Adams Imperial White as a bouquet of flavors.

THE LEGACY

White ales, or "witbiers", have been brewed in Belgium for centuries. The name comes from the pale color and cloudiness of the beer, due to the unfiltered wheat and suspended yeast. Witbiers evolved from medieval beers that used spices, rather than hops, to flavor and preserve the beer. Although hops are now used, their taste is subtle and the characteristic spices remain. Typical spices include coriander and orange peel, which give the beer a citrusy flavor that complements the wheat. Although we began with the witbier profile we took the beer to a new "imperial" level by amping up the flavors, spices, and strength for a warm, spicy brew that's smooth and refreshing.