Close Nave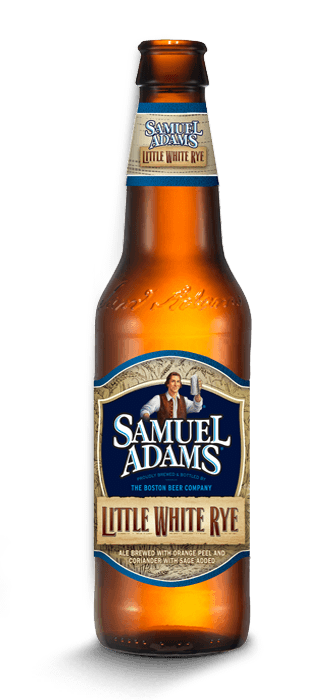 Samuel Adams
Little White Rye
Find It Near You
Innocent yet beguiling, this hazy golden brew appears to be a classic witbier with its bright notes of orange citrus & coriander, but there's a bit more mischief up its sleeve. Behind its sweet exterior lies an intriguing blend of white sage and rye for an earthy, spicy, and thoroughly refreshing brew.
HOP VARIETIES
Tettnang Tettnanger and Saaz Noble Hops
MALT VARIETIES
Samuel Adams two-row pale malt blend, rye
YEAST STRAIN
Top-fermenting ale yeast
COLOR
Bright golden, Slight haze, SRM: 7
SPECIAL INGREDIENTS
Orange Peel, Corriander, White Sage
ALC. BY VOL/WT
5.3% ABV - 4.2% ABW
Every Craft Beer
Has a Story
THE TOOLS

The defining ingredient of this brew is, not surprisingly, malted rye. The rye imparts a complexity by delivering a spicy and slightly drying finish to this medium-bodied brew. The wheat malt lends a slightly veiled straw color and crisp character, while the orange, coriander and white sage add hints of bright citrus and herbs.

THE TRADE

We use a blend of two-row pale malts (and wheat malt?), as well as malted rye for the crisp malt backbone. Traditional witbier ingredients (orange peel and coriander) are added in the mash. Aged for 2 weeks on dried sage, this beer has a floral, herb note towards the finish.

THE LEGACY

White beers (or witbiers) take their name from the pale color and cloudiness of these unfiltered brews. Belgian brewers traditionally added different fruits and spices to their witbiers, and this brew follows their example. Our brewers began by experimenting with rye to lend an additional spicy complexity to the beer, and then became intrigued by the idea of adding other "white" spices. White sage turned out to add the perfect hint of herbal character and floral finish that just says summer.

We have been brewing witbiers here in Boston for years and we were looking to take the traditional ingredients and add some additional flavors and layers of complexity. We brewed 10 different trials on our Nano brewing to experiment with herbs, hops and spices. We found the white sage to be the most interesting of the trial and offered some unique flavors that contributed to the overall complexity of the beer.