Close Nave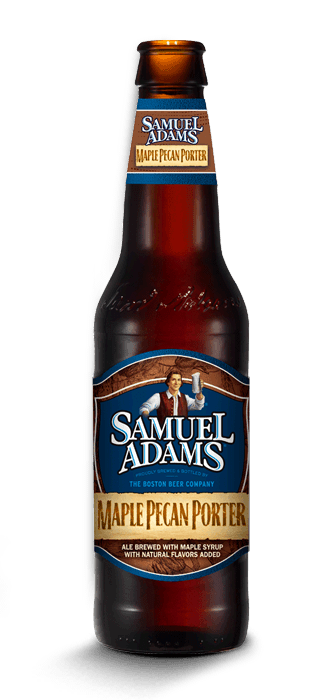 Samuel Adams
Maple Pecan Porter
Find Near You
Maple Pecan Porter is a full-bodied Porter with notes of sweet Vermont maple syrup and a subtle pecan character. It passes through flavors of each, from an initial maple note, to the roasted character of coffee and chocolate, to a sweet and slightly tangy nutty finish.
HOP VARIETIES
East Kent Goldings
MALT VARIETIES
Samuel Adams two-row pale malt blend, Caramel 60, Munich, and Carafa
YEAST STRAIN
Top-fermenting Ale
COLOR
Reddish Black, SRM: 48
SPECIAL INGREDIENTS
Maple Syrup
ALC. BY VOL/WT
5.6%ABV - 4.4%ABW
CAL PER SERVING
Every Craft Beer
Has a Story
THE TOOLS

Introducing one of the newest additions to our beer family – Maple Pecan Porter joins our Spring Thaw Variety Pack for 2013. We've brought together a few of our favorite flavors for these cooler months in this robust brew; a full-bodied porter with the added sweetness and richness of Vermont maple syrup and a subtle pecan character.

THE TRADE

This flavorful ale is brewed with Vermont maple syrup and has a distinct pecan note for a nutty finish. The taste begins with an initial maple sweetness that combines with an underlying roasted malt character with notes of coffee and chocolate. The maltiness has another layer of flavor with the addition of pecan for a rich nuttiness and slight tanginess, rounded out by a soft sweetness.

THE LEGACY

This flavorful dark ale is a fresh take on the porter style originally brewed in London in the 18th century. English porters, men who spent their days carrying and hauling goods, sought a hearty beer to reinvigorate them after a long day of work, and this robust style has borne the name of those workers ever since. Our Maple Pecan Porter builds on the legacy of this rich, full-bodied brew but we were inspired to give it an American twist with the addition of maple syrup and pecan.